McMinnville Businesses Invited to Shape Future Workforce Development / Negocios de McMinnville Invitados a dar Forma al Futuro Desarrollo del Personal
Oct 20, 2023
McMinnville, [October 20, 2023] — The City of McMinnville, in collaboration with the McMinnville Economic Development Partnership (MEDP), calls upon local businesses to participate in the McMinnville Business Workforce Survey. Are you grappling with the challenge of finding and retaining skilled employees? Your insights are vital in shaping the future of workforce development programs within the city.

The ongoing impacts of COVID-19 have underscored the importance of adaptive and responsive workforce strategies. To address this, the City and MEDP have launched the McMinnville Workforce Integration Network (WIN) initiative—a collaborative effort aimed at understanding and responding to the evolving workforce challenges faced by local businesses.
How You Can Contribute:
1.Take the Survey: Your input is crucial in identifying business needs for workforce development programs, including specialized training, scholarships, apprenticeships, and internships. The survey, taking just 10 minutes of your time, is open from October 16 to December 4, 2023, and is available in multiple languages. Take the survey here: https://www.surveymonkey.com/r/2L6L5KH

2.Forums: Join the conversation at MEDP's Workforce Integration Network (WIN) LISTENING forums. These forums provide a platform for business leaders and the community to share insights into ongoing workforce impacts due to COVID-19. To participate or host a WIN Forum, contact MEDP at info@mcminnvillebusiness.com or (503) 474-6814.

3.Online Resource Directory: A proposed directory is in development, slated for an early 2024 launch. This comprehensive toolkit will consolidate training programs and valuable resources in one accessible online location.
For further information on McMinnville's Workforce Development Resources, please visit https://www.mcminnvilleoregon.gov/cd/page/mcminnvilles-workforce-development-resources
This initiative is part of the McMinnville Business Recovery and Resiliency Plan, funded by the State American Rescue Plan Act (ARPA) and championed by Rep. Ron Noble (HD-24) during the 2021 Oregon Legislative Session. The Plan addresses the ongoing challenges stemming from the COVID-19 pandemic and aligns with the community's MacTown 2032 strategic plan goal of Economic Prosperity.
###

PARA PUBLICACIÓN INMEDIATA:
Octubre 20, 2023
Oficina 503.474.6814

Negocios de McMinnville Invitados a dar Forma al Futuro Desarrollo del Personal

McMinnville, [Octubre 20, 2023] - La ciudad de McMinnville, en colaboración con la Asociación para el desarrollo Económico de McMinnville (MEDP), invita a los negocios locales a participar una encuesta sobre el personal de negocios aqui en McMinnville. ¿Se enfrenta el reto de encontrar y retener empleados cualificados? Su opinión es vital para dar forma al futuro de los programas de desarrollo del personal en la cuidad .

Los efectos actuales de COVID-19 han subrayado la importancia a las estrategias de adaptacion y responder al Personal del negocio . Para dirigirse, la ciudad y MEDP han puesto en marcha la iniciativa de Integración al personal de negocios McMinnville (WIN), un esfuerzo de colaboración destinado a comprender y responder a los retos sobre el Personal de los negocios locales.

Cómo puede contribuir:
1.Responda a la encuesta: Su aportación es crucial para identificar las necesidades del Personal de negocios, que puede incluir entrenamiento especializado, becas, aprendizaje y trabajo interno . La encuesta, que sólo le llevará 10 minutos de su tiempo, está abierta desde el 16 de Octubre hasta el 4 de Diciembre de 2023, y está disponible en varios idiomas. Realice la encuesta aquí: https://www.surveymonkey.com/r/2L6L5KH

2.Foros: Únase a la conversación en la iniciativa de Integración del personal de negocios (WIN) del MEDP eschuchando los foros. Estos foros les dan una plataforma para que los líderes de negocios y la comunidad compartan puntos de vista sobre el impacto que COVID-19 dejo afectando al Personal de negocios. Para participar o organizar un foro WIN, póngase en contacto con el MEDP en info@mcminnvillebusiness.com o (503) 474-6814.

3.Directorio de recursos en línea: Se está desarrollando una propuesta de directorio, en cual el lanzamiento está previsto para principios de 2024. Este amplio conjunto de herramientas consolidará los programas de formación y recursos valiosos en una ubicación en línea accesible.

Para más información sobre los recursos de desarrollo de la mano de obra de McMinnville, visite https://www.mcminnvilleoregon.gov/cd/page/mcminnvilles-workforce-development-resources.

Esta iniciativa forma parte del Plan de Recuperación y Resiliencia Empresarial de McMinnville, financiado por la Ley Estatal del Plan de Rescate Estadounidense (ARPA) y defendido por el Diputado Ron Noble (HD-24) durante la Sesión Legislativa de Oregón de 2021. El Plan aborda los retos actuales derivados de la pandemia de COVID-19 y se alinea con el objetivo de Prosperidad Económica del plan estratégico MacTown 2032 de la comunidad.
Sobre de MEDP: MEDP fue creado en 2006 por McMinnville Industrial Promotions, McMinnville Water & Light, la ciudad de McMinnville y la Cámara de Comercio de McMinnville para apoyar a los negocios y la industria del sector comercial. Somos una entidad pública/privada respaldada por nuestro Círculo de Inversores. Para obtener más información sobre la Asociación para el Desarrollo Económico de McMinnville, visite www.McMinnvilleBusiness.com.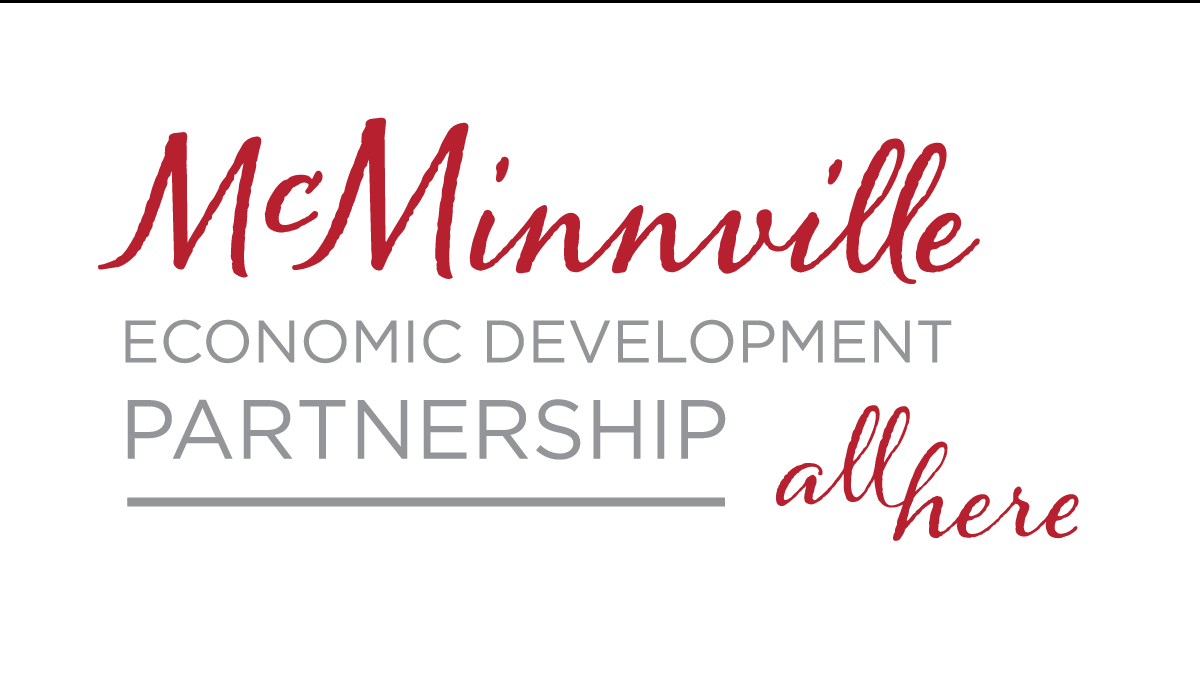 Connect with us!
Subscribe to our newsletter.
Find MEDP on Facebook, Instagram, LinkedIn, and Twitter.
Find our McMinnville WORKS program on Facebook and Twitter.
MEDP was created in 2006 by McMinnville Industrial Promotions, McMinnville Water & Light, the City of McMinnville, and the McMinnville Chamber of Commerce to support traded sector business and industry. We are a public/private entity supported by our Investor Circle.
Patty Herzog, Executive Director patty@mcminnvillebusiness.com
Heather Hadley Blank, Deputy Director heather@mcminnivllebusiness.com
Or Call 503.474.6814