MEDP Spark - Setting our Sights (Five Stories) High
Jun 19, 2020
MEDP Spark, Volume 5, Issue 5 -- June

Buchanan Cellers Feed Store on 5th Street in McMinnville


As we look around the city of McMinnville, we are energized by progress and projects that are in the works. First Federal officially broke ground on their new headquarters at the corner of 3rd and Baker, and we've seen some new development and building expansion happening in the industrial park. Red Hills Distribution and Storage is expanding their warehouse footprint, and additional square footage will lead to additional jobs. We are encouraged by Bill Stoller's acquisitions on the Evergreen campus and are looking forward to seeing the improvements made in the water park and what else Stoller has in mind for future developments on the property.
At MEDP we pride ourselves on our knowledge of available sites in the community, industrial land in McMinnville, and upcoming projects of interest. You may remember, in 2017 MEDP along with the City of McMinnville Planning Department, McMinnville Downtown Association and the Legard family helped facilitate a site development opportunity tour at Buchanan Cellers as a way to give attendees opportunities to discover the history of the building and imagine the potential for future developments.
This unique property is located at the forefront of the NE Gateway District connecting downtown McMinnville with the Granary District and Alpine Avenue. Built in 1888, and last expanded in the 1940's this iconic building is home to 25,000 square feet of historic charm. The building has been in continuous use since 1889, and it houses the last remaining intact flour-mill in Yamhill County. The Legard family has owned the business since 1977. They purchased the Buchanan Cellers Mill building in 1979 and moved operations there at that time. Their next steps as stewards of this 132 year old structure include a large scale restoration and renovation project for the entire exterior and interior of the building that will include the expansion of their current retail space as well as additional leasable commercial opportunities. The Legards are pleased to announce that they intend to start work on this large scale project later this Summer.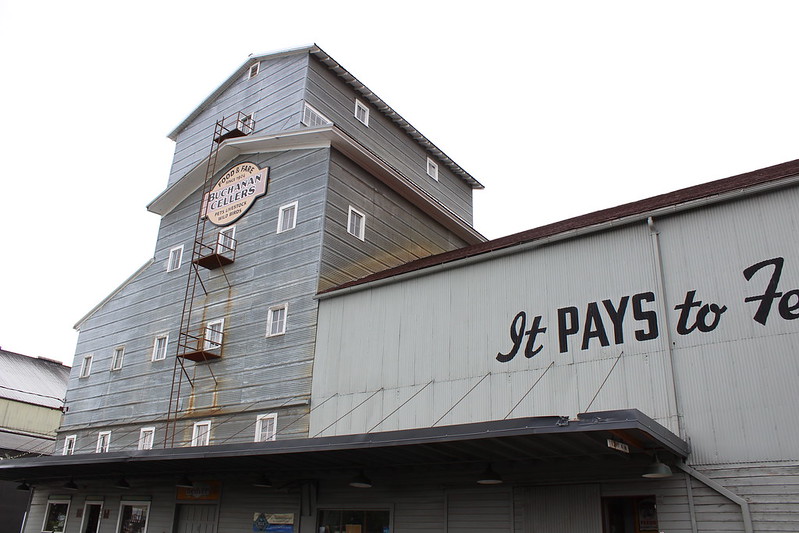 Mary Beth Branch, the Lead Designer and Partner with Branch Geary Inc., is excited by the unique challenges and opportunities housed within the project. As a member of the Legard family, she is intimately familiar with the historic significance of the building, and is excited to share the rich history and its full potential with the surrounding community. As a building on the local historic inventory as well as an individually listed property on the National Register of Historic Places, there are certain guidelines that must be followed closely to meet the Secretary of Interior's Guidelines for Historic Preservation. Mary Beth noted, "We have been working hand in hand with the State Historic Preservation Office, our local building and planning officials and local craftsmen to develop a preservation plan and design that allows for the protection of the treasured historic elements of the building while allowing for updated, comfortable and flexible uses of all the interior spaces."



The Legard family intends to work with tenants to develop spaces to fit their individual needs. There are also plans to salvage and repurpose as much of the original materials as possible, restore and reuse the original wood flooring on all five stories of the building, and the design will feature and serve as a living archive for some of the oldest of the original milling equipment.

Views from the 5th floor of Buchanan Cellers looking towards Alpine and the NE Gateway

Currently there are plans to lease space on the 2nd, 3rd, 4th, and 5th floors of the building, with mixed-used commercial space. All five floors will be fully ADA accessible. Ideal tenants would be businesses looking to make this iconic building with modern amenities and rich history a part of their story. With ample parking, and easy walking access to Alpine Avenue and Historic Downtown, we anticipate this being some of the most coveted commercial spaces in McMinnville. To set up a site tour or learn more about the scope of the renovation contact Mary Beth Branch at marybeth@branchgeary.com
At MEDP we have always known that McMinnville is a place full of opportunities. Nestled in the Willamette Valley, with an agricultural history, a strong industrial core, and renowned downtown, McMinnville checks a lot of boxes; especially when it comes to the livability factor. With abundant parks, walkable streets, friendly neighbors, and quirky festivals McMinnville is not just a tourist destination, it is a place to put down roots. Our friends at Visit McMinnville have marketed McMinnville as the "Land of Plenty" and we couldn't agree more. With a variety of business incentives, ample available properties, and resources to help employers tap into the emerging workforce, opportunities abound in McMinnville, Oregon.
Though the business incentives in McMinnville are attractive, what really draws people to do business here is the quality of life.
"We chose McMinnville because it has a lot of smart people but it's not beholden to a big city, like a Portland or a Silicon Valley. It's really the best of both worlds. It offers a high quality of life and has a little bit of everything, including great food, a great school, and a reasonable cost of living in comparison to California." Said Brian Feucht, the CRO of Predicta, an AI company with offices in downtown McMinnville.
Since MEDP's founding in 2006, we have been able to work with a number of companies to help them locate, expand, and grow in the McMinnville Community. McMinnville is home to over 90 manufacturing companies and countless other retail and commercial enterprises. With an effective local government, affordable utilities, and collaborative business leaders, businesses are able to succeed and prosper here.
Interest in McMinnville has not slowed. According to MEDP Executive Director, Scott Cooper "We see existing businesses moving forward with expansions, and regional businesses looking to McMinnville for new opportunities. Our relationship with Business Oregon continues to create new business opportunities from out of state. These things all happen because of the work of the entire community."
"The continued support and involvement of McMinnville Industrial Promotions in economic development have been going on for over 60 years. Their efforts have shaped one of the largest manufacturing centers in the area. McMinnville Water & Light's continued support and mission has created a sense of reliability and assured a lower cost of doing business. The City of McMinnville continues to work towards the future and be welcoming to new businesses. Certainly, everybody reading this plays a community ambassador's role. Your communication speaks volumes about our great community."
We are also seeing an increase in startup businesses in Yamhill County. "It really is fun to see entrepreneurs participate in our programs and watch them grow. We have participants from our Entrepreneur Bootcamp opening businesses and moving forward with their dreams and their future vision of what the McMinnville business community will look like. Creating a new path, innovating, solidifying our future."
Cooper reiterates that "Our focus will remain steadfast on our traded sector business community and creating an environment for their growth. It is our mission. It is why we have asked you to have a seat at our table. We want to talk and we are here to assist."
Whether you are looking for space to start your business, are needing to expand or grow your current company, or are wanting to relocate to be a part of the enviable lifestyle in McMinnville there are a variety of site opportunities here to meet your needs. Visit our properties page For more information or give us a call 503.474.6814