Fall 2023 Business Opportunities
Sep 8, 2023

MEDP Spark - September 2023 Issue
In this edition:
MEDP would like to share a windfall of programs for our business community this Fall, whether looking for access to capital, workforce engagement or entrepreneurial networking opportunities and More! Check out these activities below:
9/8 – Catalyst Summit 2023, Kinesis, with McMinnovators: HelloCare and Solid Form Fabrication
9/11 – Explore Chemeketa Yamhill Valley Campus, 5p
9/13 – MHS GrizzFest 6:30pm
9/14 – MEDP / APT Press Event – McMinnville Industrial District
9/18 -- City of McMinnville Dollars & Sense
9/19 – Launch Mid Valley Coffee Club for Startups McMinnville, 9am, Mac Market
9/21 – MEDP and Launch Mid Valley Boss Ladies, 5pm, 1882 Grille
9/23 -- Oregon Entrepreneur Network: Angel Food Marketplace, Chemeketa Ag Hub, Salem
9/23 -- Unidos Bridging Community: Annual Fundraiser Celebración!
9/26 – MEDP presents to City Council / National MFG Day and McMinnville MADE Proclamation
9/27 – MEDP Access to Capital Business Forum
9/27 -- City of McMinnville Dollars & Sense Fair
10/5 – MEDP Annual Event & McMinnville MADE Awards
10/6 – Nat'l MFG Day showcased the Week of 10/2-10/6 -- MHS students to tour EMPWR and Organic Valley
10/7 – Solid Carbon / New Energy Works -- Miller Woods "Welcome Center" Ribbon Cutting
11/9 -- OR IT Expo, Register Today!, Evergreen Aviation Theater Building

MEDP Event Calendar
---
Business Program Highlight: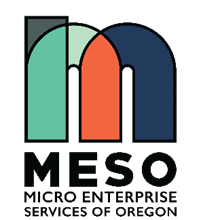 City of McMinnville and MESO Micro Enterprise Services of Oregon:
Small Business Loans for up to $20,000 with 40% forgiven if requirements are met.
MESO is a non-profit serving small businesses in Oregon and SW Washington. Our mission is to elevate under resourced and excluded entrepreneurs to build resilience, equity, and thriving communities through access to capital, tailored business assistance, and education.
MESO has worked in collaboration with the City of McMinnville to create a forgivable loan product of up to $20,000 for eligible businesses. In addition, MESO offers virtual class sessions on business topics from branding to business taxes, e-commerce to business contracts, and more. Visit us at https://www.mesopdx.org/ for more information.
MESO es una organización sin fines de lucro que presta servicios a pequeñas empresas en Oregón y el suroeste de Washington. Nuestra misión es elevar y empoderar a los empresarios históricamente excluidos y con pocos recursos con asistencia comercial personalizada y capital flexible para generar riqueza familiar a través de la propiedad de pequeñas empresas.
MESO ha trabajado en colaboración con la ciudad de McMinnville para crear un préstamo perdonable de hasta $20,000 para empresas elegibles. Además, MESO ofrece sesiones de clases virtuales sobre temas comerciales, desde marcas hasta impuestos comerciales, comercio electrónico, contratos comerciales y más. Visítanos en https://www.mesopdx.org/es-mx para más información.
This program is brought to you by The City of McMinnville's Business Recovery and Resiliency Plan.
To learn more about this program and other Access to Capital programs, register for MEDP's Access to Capital Forum on September 27, 2023.
---
McMinnville Area Workforce Development Highlights:
MEDP is Hiring!
Workforce Development Contractor (1 yr contract) - Deadline to Apply is September 14, 2023. Enthusiastic about supporting our business community through workforce development? Join our team!
McMinnville WORKS Summer 2023 / 10th Year Running: Enjoy reading about the summer program from MEDP's summer program coordinator intern, Emma Campbell, Linfield University -- Reminiscing a Decade of Building Workforce in McMinnville
Coming Soon!
MEDP convenes a monthly Workforce Development Partnership Forum at Chemeketa Community College, nearly 40 participants engage and discuss opportunities to collaborate for workforce development in our area. One current project is the development of a Yamhill Valley Jobs Board with Chemeketa Community College, McMinnville School District, and Unidos Bridging Community. The pilot will kick off in the McMinnville for area employers to post internships, job shadow experiences and job opportunities. More information coming soon!
---
McMinnville Area Property Highlight: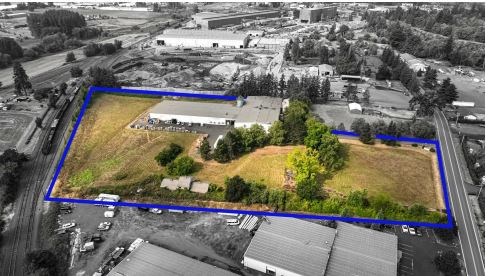 4150 NE Riverside Drive - For Sale
---
Make Your Voice Heard Now!
Visit the Dollars & Sense Project Page at iheartmac.org to share your priorities or to read more about how we plan to engage the community.
Dollars & Sense is a City led project aimed at engaging community members to help prioritize the investment of the nearly $5 million dollars previously used for fire and emergency services – these funds were made available to the General Fund as the result of the creation of the new McMinnville Fire District.
Participants in the focus groups which will be held on Monday, September 11th and Monday, September 18th from 5 to 7 pm will be offered a $50 Visa Gift Card for two hours of participation + snacks during the meeting hours. We highly encourage members of our Latinx community to join these conversations so that their opinion is included.
This is a unique opportunity for the McMinnville Latinx community to get involved in the budgeting process and help the City plan for the future of McMinnville.
You can also help by directing interested folks to read more about our public involvement process, timeline, and FAQ's on the project page found here: https://iheartmac.org/en/projects/dollars-and-sense (this is also in English & Spanish). Please help us prioritize in English or Español
https://www.mcminnvilleoregon.gov/bc/page/dollars-and-sense
---
Join MEDP in supporting economic vitality in McMinnville, Join our Investor Circle today!
MEDP is a 501c6 created back in 2015 as a committee of the Chamber of Commerce. We became a stand alone entity supported our primary funding partners: McMinnville Industrial Promotions, McMinnville Water & Light, and the City of McMinnville. We rely on the generosity of our Investor Circle to support programs for our business community as referenced above. Please join us in supporting our business community by investing today. Investors will be highlighted at our October 5, 2023 Annual Event and Awards program and through out the 2023-2024 year.
MEDP's strategic initiatives focus on:
Business Retention & Expansion
Workforce Development
Innovation and Entrepreneurship
Business Attraction and Available Site Promotion
---
In the Press:
Did you catch the News Register Made in Yamhill County publication? Check it Out here.
---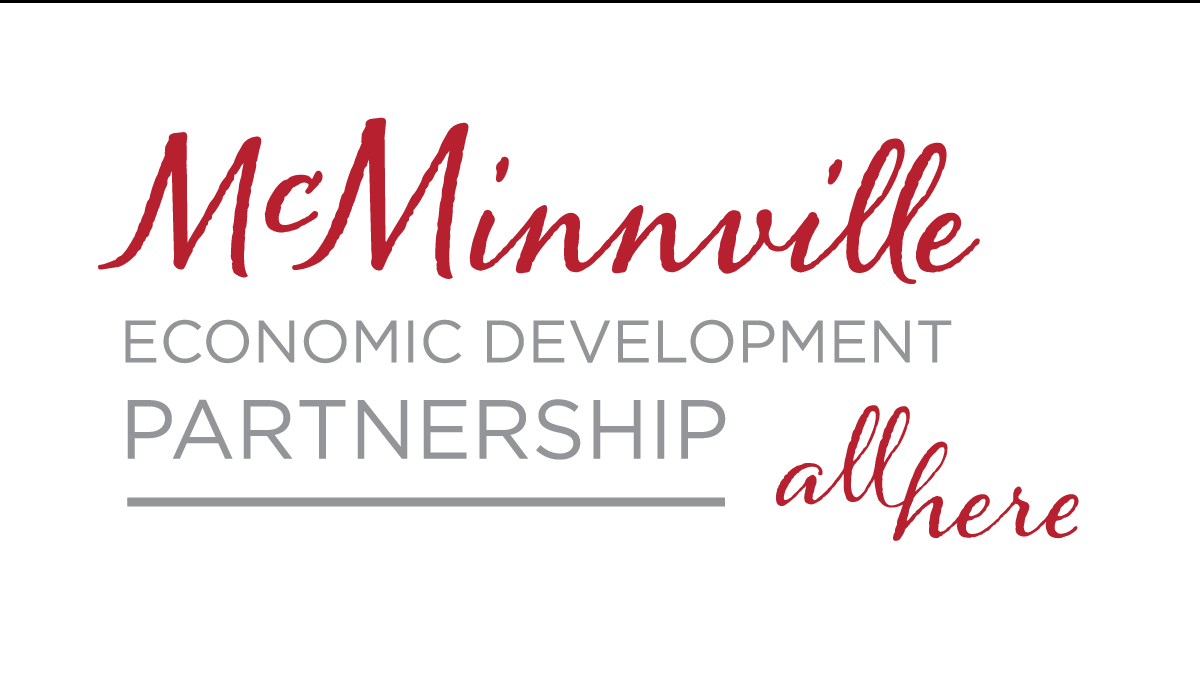 Connect with us!
Subscribe to our newsletter.
Find MEDP on Facebook, Instagram, LinkedIn, and Twitter.
Find our McMinnville WORKS program on Facebook and Twitter.
MEDP was created in 2006 by McMinnville Industrial Promotions, McMinnville Water & Light, the City of McMinnville, and the McMinnville Chamber of Commerce to support traded sector business and industry. We are a public/private entity supported by our Investor Circle.
Patty Herzog, Executive Director patty@mcminnvillebusiness.com
Heather Hadley Blank, Deputy Director heather@mcminnivllebusiness.com
Or Call 503.474.6814