MEDP Spark - Community and Career: The McMinnville WORKS Way
Jan 11, 2018
MEDP Spark ,Volume 3, Issue 1 - January 2018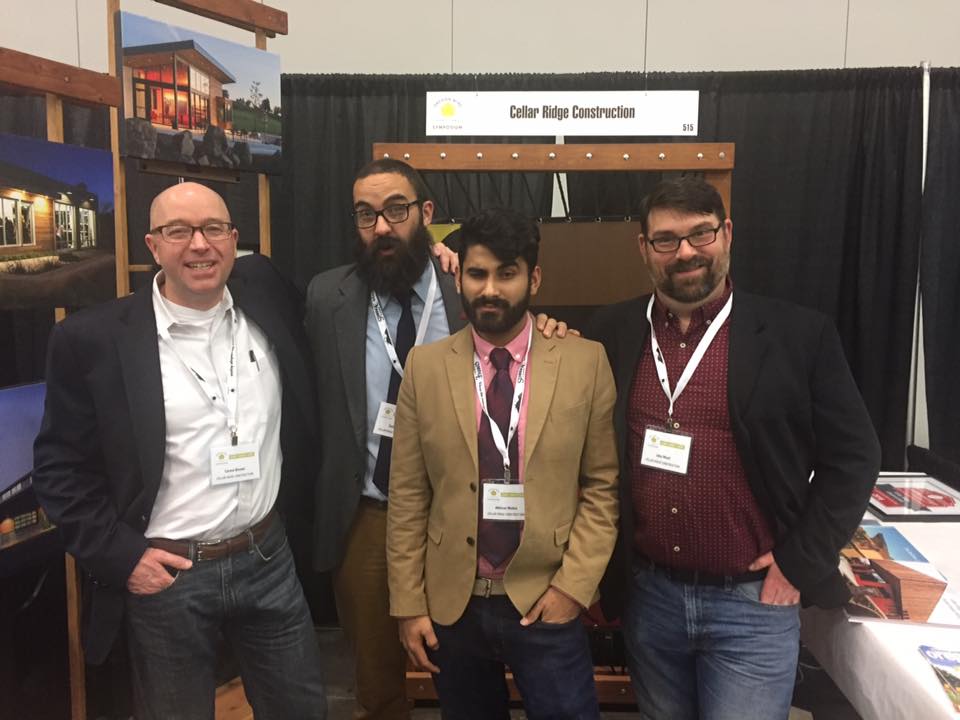 Abhi stands with the Cellar Ridge team at a building conference in Portland. Photo courtesy of Cellar Ridge Construction.
When Abhinav Mishra (Abhi) applied for the McMinnville WORKS Internship Program in 2016, he was unaware that with this one application, he would be set on a different path than what he had imagined outside of college. Rather than continuing onto a masters program in sustainable building, through his McMinnville WORKS Internship connections, experience, and pure perseverance, Abhi chose to get hands on experience in his intended field. Hired as a project manager at Cellar Ridge Construction, he is now immersed in the world of green building.
The McMinnville WORKS Internship Program is a community wide program, organized through MEDP (McMinnville Economic Development Partnership), where multiple companies in the area host interns for 9-week, paid, full-time, project based internships. Each intern is an employee of their host company, and throughout the nine week program, every Wednesday morning interns meet for Professional Development Workshops where they are able to network with each other, local community leaders and professionals, and learn valuable professional skills.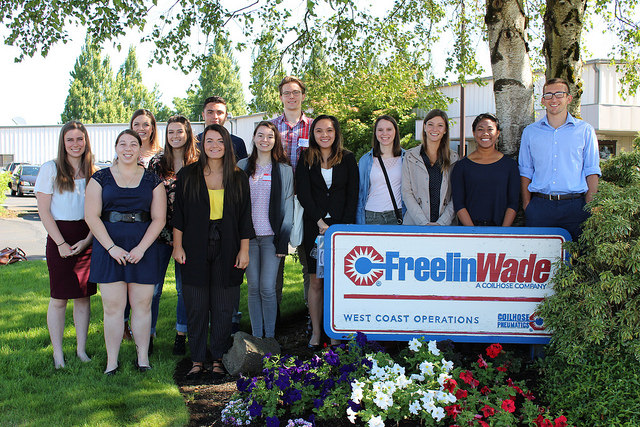 A photo of the 2017 cohort in the McMinnville WORKS Internship Program
Abhi is not a person who backs away from opportunity. In his senior year of a Civil Engineering program at Portland State University, Abhi knew he wanted an internship that would allow him to grow in new ways. He wanted an internship where he would be learning the ins and outs of multiple projects and where he would be able to connect to a community around him. When asked why he applied for the McMinnville WORKS Internship Program Abhi said, "As soon as I saw the WORKS application, I knew that one application would be sent out to multiple companies, which not only increased my chances of getting an internship, but would help me find an internship directly related to my interests.
In the summer of 2016, Abhi was hired as a Civil Engineer intern with the City of McMinnville. Anxious to get hands on experience in multiple fields, Abhi's projects when he was with the city ranged from updating the city's sewer CAD drawings, which involved both field and office work, to designing ADA compliant sidewalk ramps for intersections. "You can still see my survey marks on the sidewalk. It's fun because they will be using my designs to move forward with construction."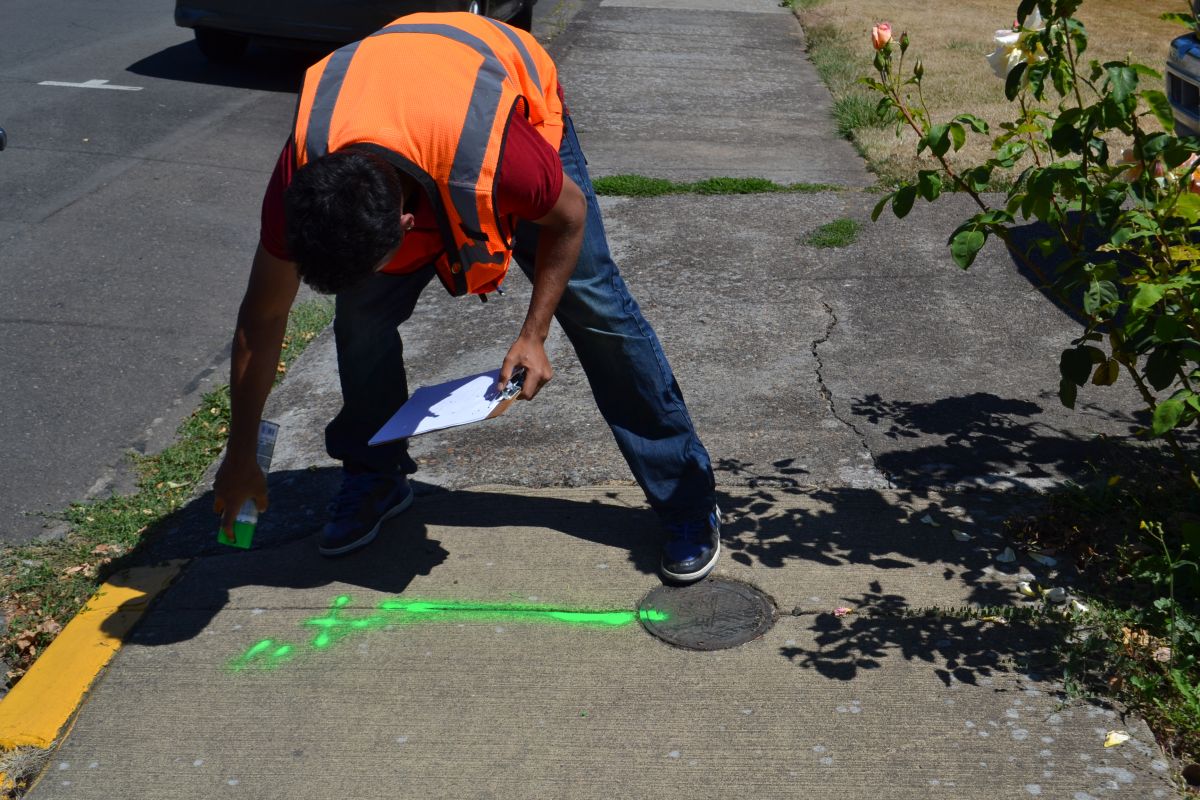 As part of his City of McMinnville internship, Abhi had to survey sidewalks and street throughout town
More than just gaining work experience, Abhi says the McMinnville WORKS Internship Program affected his life in a multitude of ways: "It's a very good platform for anyone looking for an internship. You're not just focused on working from 8:00am - 5:00pm. Instead, you are involved with other people in your age group. Every week you are learning skills related to different fields which exposes you to a better knowledge of a variety of industries and gives you new experiences. But above all I recommend the WORKS Program for the connections it provides. You never know when that one little connection, that one handshake, could lead you to a future job."
Building these connections is exactly what impacted Abhi's future. Through the Professional Development Workshops Abhi quickly introduced himself and befriended the twenty other interns in the program that year. He greeted each Professional Development Speaker with the same level of enthusiasm and interest. He volunteered time and asked for opportunities throughout the program and made it a priority to connect with the McMinnville community. It helps that Abhi has an easy charm and intelligence that radiates from him. He is fascinated in the way the world functions and how people perform their jobs. He has an honesty that is both refreshing and can at times catch you off guard. But perhaps what draws people to Abhi the most is his willingness to work to learn new skills.
Later, at a Chamber Greeters event, he made a point of meeting a local restaurant owner and volunteering time to work in his kitchen to understand how the process worked. After one week in the program, he arranged a hike for the interns to attend on the weekend. He constantly made sure he met people for lunch and that he kept up with his connections. All of this networking allowed Abhi to get associated with his future employer, Cellar Ridge Construction.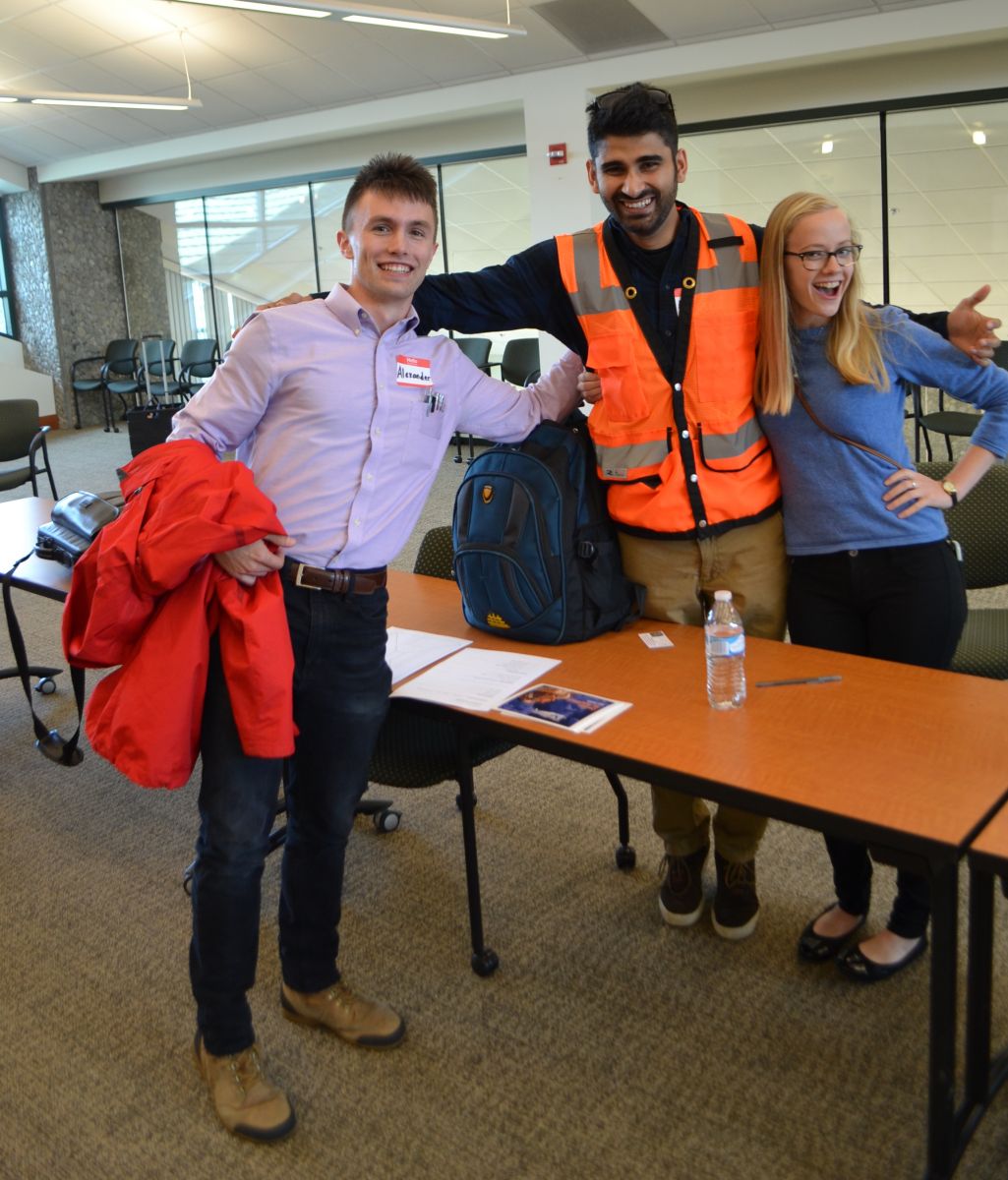 Alex Ogle, Abhi Mishra, and Heather McNutt-Kaestner were all interns in the 2016 program
After finishing his internship at the City of McMinnville, Abhi planned to go back to school, finish his degree, graduate in December and begin looking for a masters program in sustainable building, but something about McMinnville kept bringing him back. During the summer of 2016, Cellar Ridge also hosted a WORKS Intern, Heather McNutt-Kaestner. Abhi connected with Heather throughout the summer and learned about what she was doing in her own internship. Through this contact, Abhi and was able to introduce himself to the company. Upon hearing of a job opening Abhi used his relationship to get his foot in the door, literally walking into the office and introducing himself to the office manager.
The opening was for a project manager position with a requested experience of five years in project management and budgeting. Despite not meeting these specifications, Abhi was encouraged by both the office manager and his connections to apply. Viewing this as his dream job, Abhi quickly drafted a resume and cover letter explaining that even if this position wasn't the right fit, he was willing to take any position they could offer him at the company. What mattered to Abhi was learning about green building and getting hands on experience, not the position title.
A few days later, Abhi was called in for an interview. Looking back, Abhi states, "It didn't feel like an interview, it felt like friends hanging out. They were joking and laughing and instead of me answering questions, it felt like we were having a conversation. The hour and forty minutes went by so quickly, I had no idea that much time had passed." To Cellar Ridge, culture fit is one of the leading factors the company considers when hiring new employees. A culture that Abhi describes as: "Very fun. Everybody brings something different to the table and the energy is great. There are always people laughing and cracking jokes. Everyone who works there is enthusiastic about what they are doing. They are great at it and super knowledgeable. They are all experts in their field and every time I sit with them I'm always learning things about construction."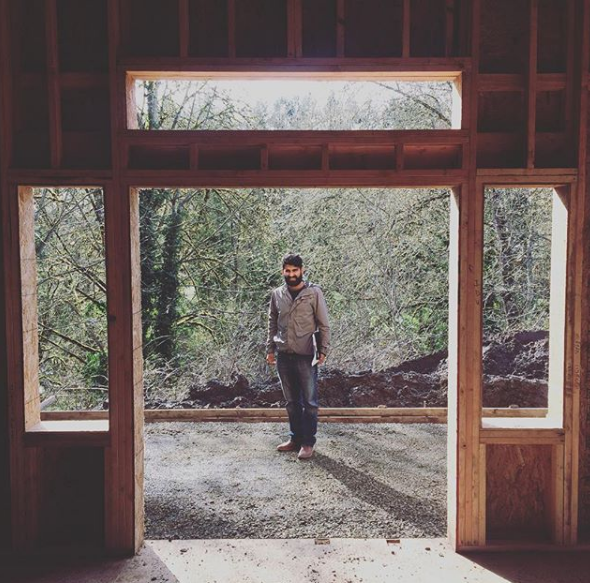 Abhi stands in the frame of his first official project, a house for a McMinnville resident. Photo courtesy of Cellar Ridge Construction.
A few weeks after the interview, Abhi learned that he got the job and would be the company's newest project manager. Learning on the job was stressful for the first few months, but now Abhi says he can enjoy everything that being a project manager provides. He likes the position because, "it makes me involved in all areas of the project. I get to oversee a wide variety of tasks and the professional, skillful, crew who do all kinds of beautiful work." Of Cellar Ridge Abhi says: "everybody is kind of like my family. We go on trips together, we can talk for hours and it's fun."
With his role of project manager, Abhi also had the opportunity to make the move to McMinnville. He knew he wanted to be in McMinnville because, "After doing my internship, I realized we have a really good sense of community here. No matter where I go, people recognize me and know me. And they don't just know me, we're actually friends." This is something Abhi said he failed to experience in his four years of living in Portland. He has also become more involved in the community, volunteering with the McMinnville Downtown Association, helping to coach tennis at Linfield College, and volunteering his time wherever he sees an opportunity to learn and improve his skills.
Abhi is a perfect example of a young professional who recognizes opportunity and seizes the benefits and work that come with it. The McMinnville WORKS Internship Program was designed to help bring young professionals into the community and help local businesses and organizations find qualified employees. When participants like Abhi join the program, it provides an example of just how connected someone can be to a small community in just one summer.
The McMinnville WORKS Internship Application for the 2018 Summer Program opened January 8 and closes February 16, 2018!
Application: http://www.mcminnvillebusiness.com/internshipapplicationform
Learn more: http://www.mcminnvillebusiness.com/mcminnville-works-internship-program