MEDP Spark – The People behind the Product
Aug 8, 2016
MEDP Spark, Volume 1, Issue 8 -- August 2016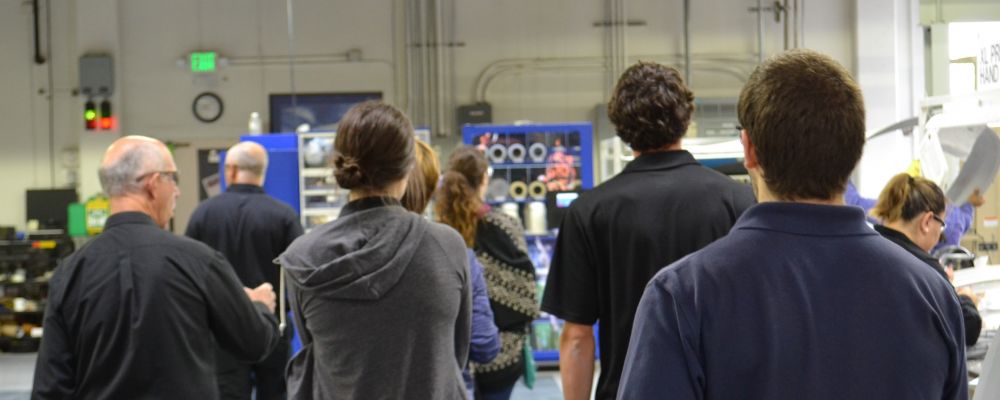 Envision a kitchen, a garage -- these spaces become ingrained in our minds as a common place to accomplish routine tasks. But sometimes, these spaces lead to a spark; a spark that produces creativity, ingenuity, and entrepreneurial spirit. Here in McMinnville, this spark led five leading manufacturers in our community on journeys of growth, creating products that stemmed from ideas formed in humble locations. We here at the McMinnville Economic Development Partnership (MEDP) are celebrating both the ideas and the people behind the products.
On October 7, 2016 MEDP will host McMinnville | MADE Day in correlation with National Manufacturing Day. The event includes VIP company tours, a luncheon, and expo. The tours will give an insiders' look at five of McMinnville's leading manufacturers - Meggitt Polymers & Composites, NWUAV, NWRapid Manufacturing, World Class Technology, and Betty Lou's, Inc.
In honor of McMinnville manufacturers' achievements and in celebration of MEDP's 10th anniversary supporting these businesses, we're focusing on how these companies have thrived.
Read on to take a tour with us and learn more about these companies and how they started from modest beginnings.
NWUAV: Soaring to New Heights
In 2005, the entirety of the now 28,000 square foot NWUAV (Northwest Unmanned Aerial Vehicles) facility was contained in Chris Harris' garage. Working on the weekends, Chris, President of NWUAV, began assembling the engines that would lead him to creating NWUAV, the world's largest manufacturer of engines for unmanned aerial vehicles. To date, more than 11,000 engines have been built at NWUAV, leading to a highlight in his career. Today, NWUAV produces their own engine which boasts less weight and the ability to stay in the air longer when compared to competitors.
Heather Sorenson, Director/Compliance Officer at NWUAV, was there when the company was just beginning. Watching the company grow over the last 10 years from a garage and 4 employees to 63 employees and its own multi-building facility, Heather stresses the importance of the family culture they cultivate here: "That was critical for me as we were growing this business. Fostering a sincere dedication to our staff is essential to maintain a work environment and structure that encourages collaboration and significantly reduces turnover."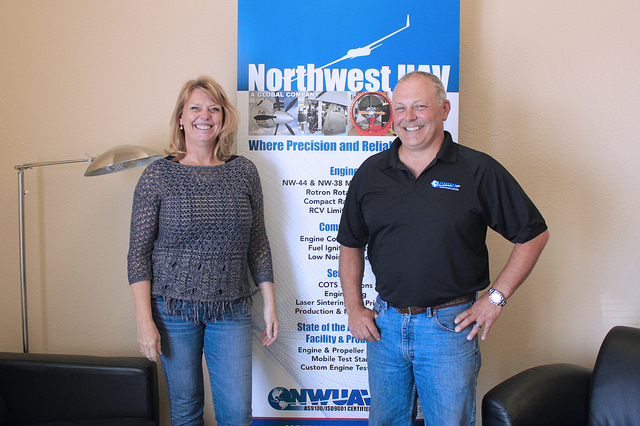 Director/Compliance Officer Heather Sorenson and President Chris Harris stand in NWUAV's office. Heather has been with NWUAV since 2007.
Walking around the facilities, this culture is obvious. Heather stops to greet all of the workers, asking questions about their life and remembering small details. Chris explains everything with a passion that makes it easy to see why he dedicated his life to this many years ago. Placing large, noise cancelling headphones over your ears while you watch the engines run, you begin to understand the immense work and importance of what the company has created.
In three years, Chris expects NWUAV to double in size: "Once the national airspace opens up, which is a big deal for us, for the UAVs, that's going to multiply quite a bit as well. We have our own engine, which is what we're really trying to highlight here."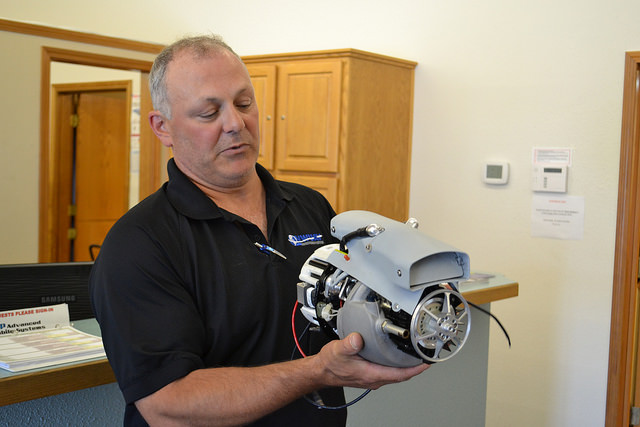 Chris Harris examines one of the engines he has designed and manufactured himself.
With work and time comes expertise: "We have ten years of experience doing this, so we've got a lot of insight to what works and what doesn't work." As far as the future, NWUAV is primed to grow with the leadership and engineering vision of Chris Harris and his team. "In about three years' time we'll probably be a 45 million dollar a year business." With the addition of new products and new markets NWUAV is poised to continue soaring to new heights.
Northwest Rapid Manufacturing: Designing Innovation
When speaking with Heather Harris, Owner and President at NW Rapid Manufacturing (NW Rapid), one thing is apparent: she loves 3D printing. The company, started with her husband and partner, Chris Harris, was created to produce parts for NWUAV engines - it has quickly become an independent success that works within the community and with outside companies to create amazing things with mind blowing technology.
When purchasing machines in 2007, 3D printing was a relatively new technology. Heather continually praises her team and employees saying her top desire would be to recreate the people she's already employed. Together, there is an excited energy surrounding the facilities, one that is fueled by trust: "I have to trust that things are getting done. And really, because there is no school of 3D printing to speak of, we need people to be present and just learn."
President Heather Harris stands in front one of NW Rapid MFG's 3D printers.
Though 3D printing is a complicated process, listening to Heather explain it while talking with her hands and seeing the excitement written in her eyes, it becomes easier to understand. NW Rapid specializes in Selective Laser Sintering. This process uses a laser to take powder just below its melting point, causing it to sinter together to form an object based off of digital CAD designs.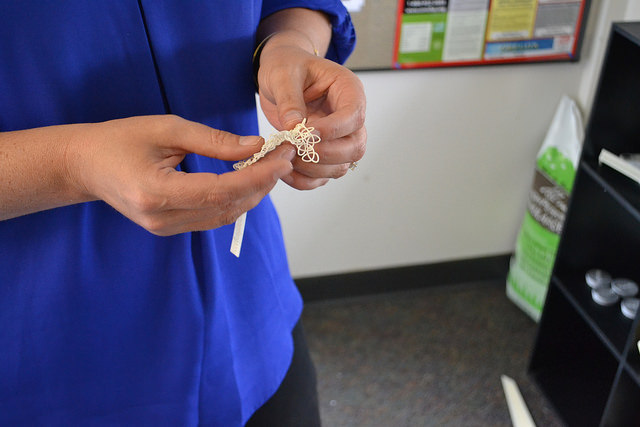 Heather holds one of the intricate and movable objects created by one of NW Rapid MFG's 3D printers.
As Heather stands next to the machines and loving calls one Gretel, and the other the Wicked Witch, you feel as though it's an old friend. Watching her describe the possibilities, you began to see the applicability 3D printing has to everything around us. 3D printing makes it easier to create and test designs for new products – and the number of items that can be "printed" is limitless. From the auto industry to eyewear, from high fashion to hydroponics and beyond, 3D printing serves a purpose. "What's this good for?' Every industry I could probably think of something we could make. You know the wine industry. We've done all kinds of mockups for how to keep fruit flies out of the open bottle top," stated Heather.
World Class Technology: Molding a Positive Future
Walking into World Class Technology (WCT) you may think you've entered the wrong building. Behind the front door is a fully functioning orthodontist office where you can book an appointment and be fitted with the latest technology. But keep going. Behind another door is a large manufacturing plant where the latest technology and high quality products are being made, with a large focus on orthodontic appliances and accessories.
Speaking with Jeff Petcavich, Director of Medical Product Development at WCT, the history of the company and focus on future growth are stressed. The company started 20 years ago in a small garage in California by the Hagelganz family. The story of its growth and legacy are intact at the company today.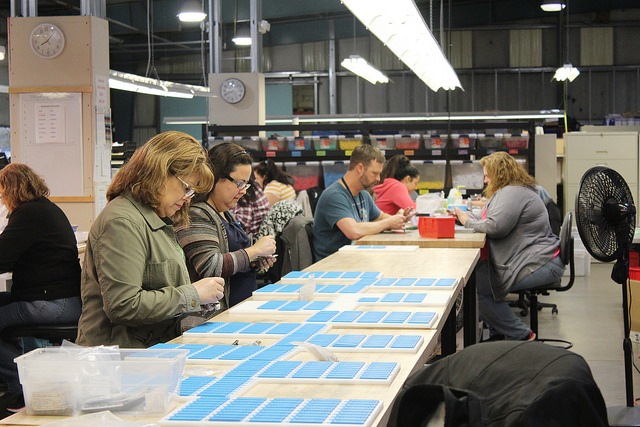 WCT employees assemble various parts manufactured by the metal-injection molding process
Jeff speaks easily about complicated manufacturing equipment and procedures at length. CEO Rolf Hagelganz believes creating a better product promotes better health for the individuals who use them. This philosophy drives the growth and innovation that fuels the WCT manufacturing plant.
WCT thrives due to its metal injection technology. Metal injection molding effectively creates complicated net shaped 3D products. In fewer steps with less waste, it allows you to create a product that is more precise and cost-effective than traditional manufacturing practices. WCT has a niche in this industry due to their patented technologies.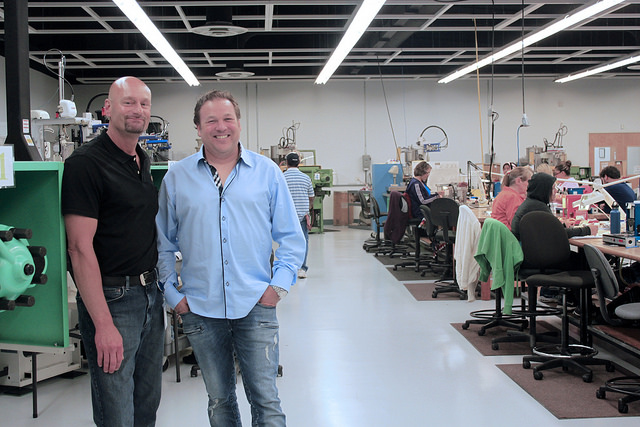 Director of Medical Product Development, Jeff Petcavich and CEO, Rolf Hagelganz stand inside WCT's facility.
WCT is growing quickly. In just a few years, it has gone from 65 employees to 160 employees. "We are growing tremendously," said Rolf, "This year, I think we'll have about 28 percent growth." He also expects to reach 200 employees in the next couple of years. While growing, the company has not let go of an important component, caring for their employees. When walking through you may see a group of workers doing stretches together to prepare for their shifts working with intricate components. Throughout the building it seems there are always more doors to walk through with something interesting and exciting behind them.
Meggitt Polymers & Composites: Engineering Aerospace Solutions
To learn about the history of the manufacturing plant that holds Meggitt Polymers & Composites (Meggitt), speak with Steve Fackler, the Director of Manufacturing Technology who has worked in the facilities for over 30 years. Walking around the plant he can point to different components and tell you the little known facts behind them: that a bag of silicone is called a pig, there was a famous record found in a machine the company purchased, and other details that are forged through a deep commitment to a company and product.
The Meggitt plant is in constant motion. It's not only the motion of seals being produced for airplanes, waterjets cutting through metal, or silicone being carefully formed; it's the motion of continuous improvement and thought being placed into every component. While Steve speaks about the products and the stories behind different systems, Craig Wilson, Director of Continuous Improvement, points out the different lean manufacturing principles the company has put into place and beams with pride when talking about efficiency.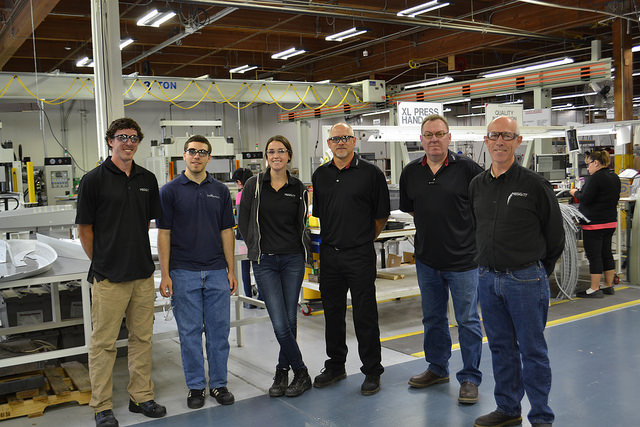 Meggitt interns placed through the McMinnville WORKS Internship Program, Matthew Richardson, Andrew Marino, and Madeline Keudell learn from three Meggitt executives: Craig Wilson, Jeremy Lodge and Steve Fackler.
If you're sitting on a Boeing airplane, the biggest manufacturer of commercial jetliners, you're surrounded by multiple components made by the Meggitt plant in McMinnville. Look at any of the seals on the windows and doors, or panels on the walls to understand the work the company does. Producing 13,000 parts every day, this branch employees 300 people and has seen a minimum of 10 percent growth over the last three years. This growth comes from a focus on innovation and efficiency in the future. Currently, management is focusing on bringing in new technology predicting they will have their own 3D printer by August. Along with new technology, Vice President Jeremy Lodge focuses on cultivating future employees. Watching him speak to interns and workers, his dry humor shows a caring for not only the work they are producing, but the people behind the production. One thing Jeremy focuses on and makes a priority: "We promote internally."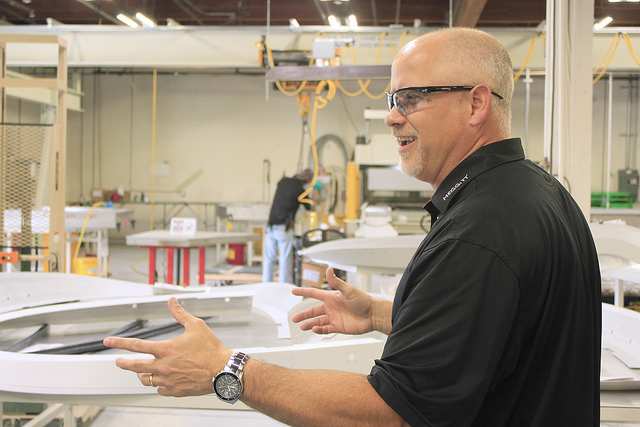 Craig Wilson discusses aviation manufacturing and how he is focused on enhancing Meggitt's manufacturing technologies.
Walking past different components of the seals and products, Steve and Craig are able to identify them all. With a flourish, either can tell you what that piece is designed to do and where it will be in the airplane. The pride they take in creating a final product is obvious as they turn pieces in their hands, looking at the edges and production happening around them. With growth in the future and new technology on the horizon, you may find yourself pointing to multiple components and saying "tell me more about that."
Betty Lou's, Inc.: Fueled by Family
Betty Lou's, Inc. is a family business. It started for family and continues because of family, and you can feel that in the facilities. Walking through the plant, not only does your mouth water as you watch a chocolate waterfall cascade onto bars and nuts being rolled into protein balls, there's also a sense of making something better to make the world healthier.
Betty Lou Carrier began creating what would become Betty Lou's Nuts About Energy Balls nearly 40 years ago as a better snack option for her children. Quickly, making balls in her kitchen was not enough to meet the demand and after two years in her kitchen, she opened her first plant. Today, the company offers more than 50 products and has more than 250 employees. Through-out all this growth, the company always ensured that it felt like family. Dale Santa, the Production Manager dubbed the chocolate guy, states: "It's by far the happiest workforce I've seen."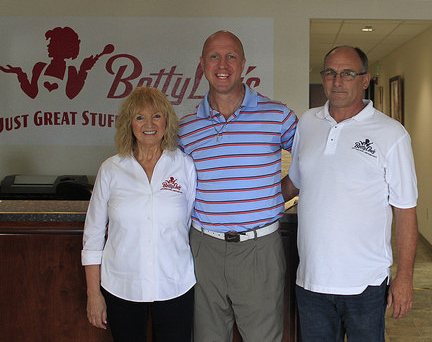 Founder Betty Lou Carrier, Vice President of Sales John Sizemore and Plant Manager Dale Santa stand in the lobby at Betty Lou's, Inc.
The care that goes into creating the products stems from a genuine desire to help people eat healthier and feel healthier. Betty was ahead of her time in recognizing many food sensitizers', like gluten, and eliminating most of them from her products. Throughout the peaks and valleys of the health food market, where fads like the no-carb diet come and go, Betty's focused on delivering products that she's passionate about. Betty explains: "We don't compromise; we never compromise on what we're doing. Our goal is to provide the highest quality, healthy snacks for everyone to enjoy." There seems to be a recent shift in consumer awareness which excites Betty and her son, John. People now, more than ever, are reading labels, looking for healthy options at the grocery store that accommodate food allergies and sensitivities. Betty Lou's, Inc. will continue to lead the charge on creating healthy alternatives through research and innovation.
Plant Manager Dale Santa is in charge of overseeing the production of all products at Betty Lou's.
Touring the facilities reveals just how much production happens on a daily basis. With Dale leading our visit, every piece of equipment is pointed at and explained with a smile. Dale calls the plant "my playground," and when you tour the facility with him, you start to understand why. Putting on the white coat and hairnet, the facility becomes a place to be explored and discovered with the chocolate guy leading the way.
McMinnville | MADE Day – October 7, 2016:
MEDP is proud to host this day with our champions of manufacturing:
Conveyor:
Chemeketa Community College
Collaborators:
Express Employment Professionals, Family Business Council, Key Bank
Fabricators:
Citizens Bank, First Federal, Oregon Manufacturing Extension Partnership, Recology Western Oregon, Willamette Valley Medical Center
Venue Hosts:
Konect Aviation
Event Schedule:
VIP Tours (8-Noon) – Invitation Only
Luncheon and Expo (Noon – 2:00) - Registration Link Opens in Early September
Expo (2-4pm) – Open to the public
To learn more how to be involved on October 7, please email info@mcminnvillebusiness.com or visit: McMinnville | MADE Day.