Betty Lou's, Inc.: The Local Ingredients for Growth
Learn about one of the successful food processing companies growing and succeeding in McMinnville, Oregon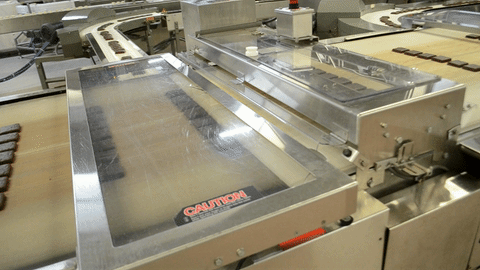 Resources Used by Betty Lou's, Inc.:
Governor's Strategic Fund
Employer Workforce Training Fund
On-the-Job Training Funds
Mid-Willamette High Performance Consortium
OMEP (Oregon Manufacturing Extension Partnership)
McMinnville Economic Development Partnership
McMinnville Industrial Promotions
Business Oregon
Company Stats:
188 employees (2018)
Expanded main plant by 16,000 sq. ft. (2015)
180 employees (2013)
MEDP Manufacturer of the Year (2012)
20 new jobs created (2011)
MEDP Manufacturing Leader of the Year (2009)
Leased additional 33,000 sq. ft. facility (2009)
Purchased 94,000 sq. ft. facility (2008)
70 local jobs retained (2008)
Just Great Stuff:
Betty Carrier's desire to create healthy snacks for her children began in her kitchen some 30 years ago. Today, Carrier's quest has expanded to creating wholesome, natural snacks for the nation with her growing product line which features organic, dairy-free, low fat, low-carb, vegan, wheat-free, kosher, and soy-free products.
With humble beginnings of Carrier driving from Yamhill County to Seattle to Ohio and back to sell her Nut Butter Balls, today Betty Lou's, Inc. operates out of her 94,000+ square foot facility and employees over 230 people.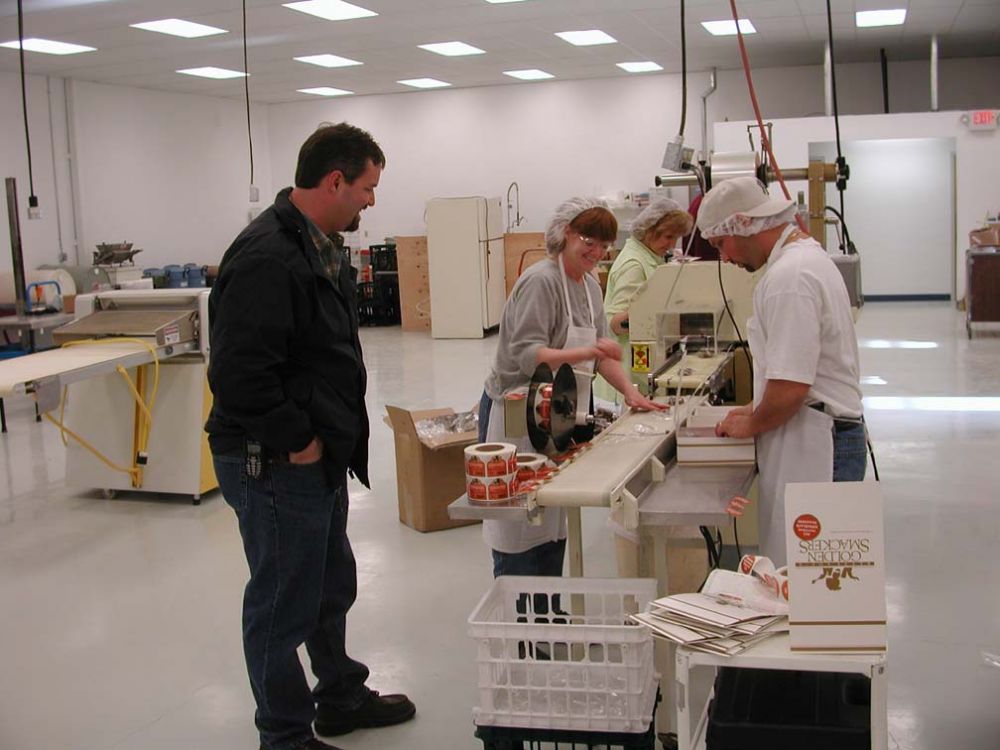 Betty Lou's, Inc.'s first production line.
Carrier's first expansion came when she leased a 32,000 square foot facility in the Granary District. Eventually, it became clear that the company would need to grow once again. In 2008, with support from the Governor's Strategic Fund, the company was able to purchase the 94,000 square foot building where they are currently located. In 2009, Carrier expanded again, leasing a 33,000 square foot production facility in the McMinnville Industrial Park.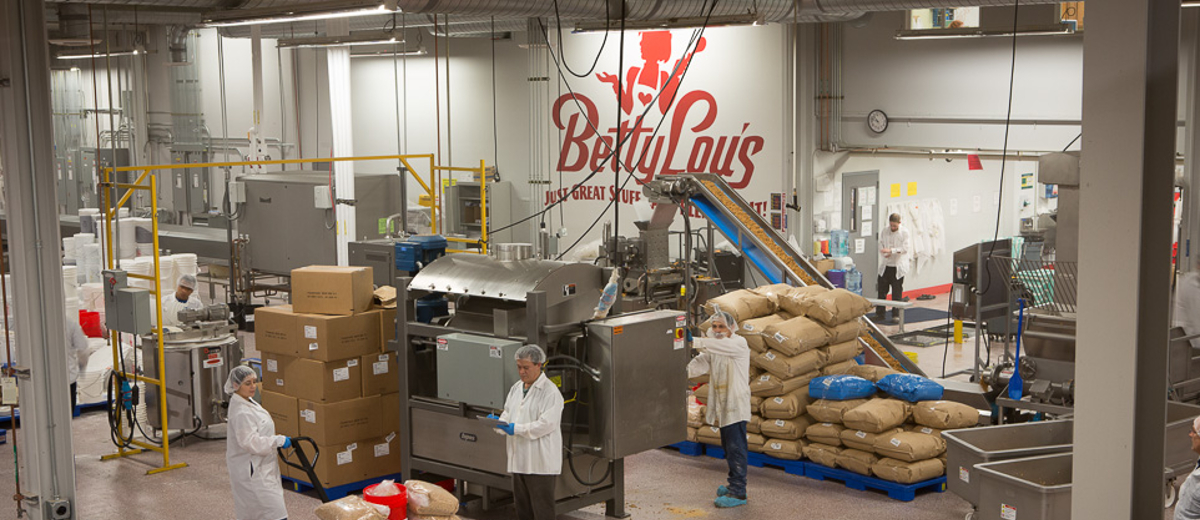 Betty Lou's, Inc. facility. Copyright 2016 Oregon Lottery
"We are fortunate that the stars all lined up -- just as the need for more space became apparent -- the perfect building came on the market." stated Jody Christensen of the McMinnville Economic Development Partnership.
Carrier has grown her business through the years with a combination of trade shows, hard work, and an unwavering dedication to making products that are both healthy and delicious, "We don't compromise; we never compromise on what we're doing. Our goal is to provide the highest quality, healthy snacks for everyone to enjoy" said Carrier.
Though much of Betty Lou's, Inc.'s business come from co-packing clients such as Elizabeth Hasselback and Marcus Lemonis, the leased, 33,000 expansion produces solely Betty Lou's, Inc. products. Within both factories the company holds essential certifications (i.e. gluten free facility) which give Carrier the backing to use the company's motto "Just Great Stuff... and Plenty of it!"
John Sizemore, Vice President of Sales, stated "We have 70 other companies that we make products for. It's why they seek us out, because we're able to make ingredients that shouldn't taste good taste amazing."
Though the company has found success through perseverance and quality, Carrier finds joy through the facility's location: "I love McMinnville. I love the community, I love the downtown, I love the people. It's the reason why I stayed here, you know? Because we had lots of opportunities to go other places, and we love this town." Sizemore adds that there is a value to doing business in McMinnville, "It's an 'all hands on deck' thing. McMinnville rolls up their sleeves and they go to bat for you. They know we're always on a time crunch, and it seems like they always come to bat."
Something else that has helped the company find success? The facility and company feels like family. Plant Manager, Dale Santa, calls the facility his "playground" and insists that Betty Lou's, Inc. has "by far the happiest workforce I've ever seen."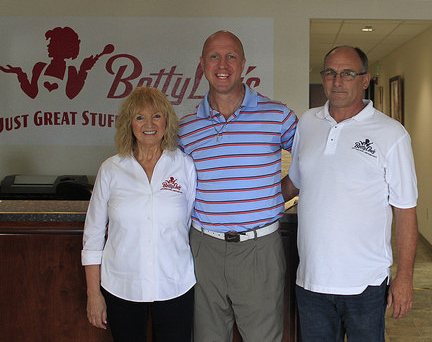 Founder Betty Lou Carrier, Vice President of Sales John Sizemore, and Plant Manager Dale Santa stand in the lobby at Betty Lou's, Inc.
A recent trend towards healthier food excites Carrier and her team. She points to people reading food labels in grocery stores and a genuine desire to help people get healthier. Growing from a small kitchen to the multi-million dollar business she oversees today, Carrier's number one concern is always quality of the product, stating: "We put a lot of research into our products. We want to continue coming out with products that are healthy, good for people, and on the cutting edge. That's what we're about."
Learn more about Betty Lou's, Inc. at www.bettylousinc.com
To read more, see our newsletter:
MEDP Spark - The People Behind the Product
McMinnville-based Betty Lou's partners with nationally-known Marcus Lemonis