A City Built on Foresight
Aug 23, 2021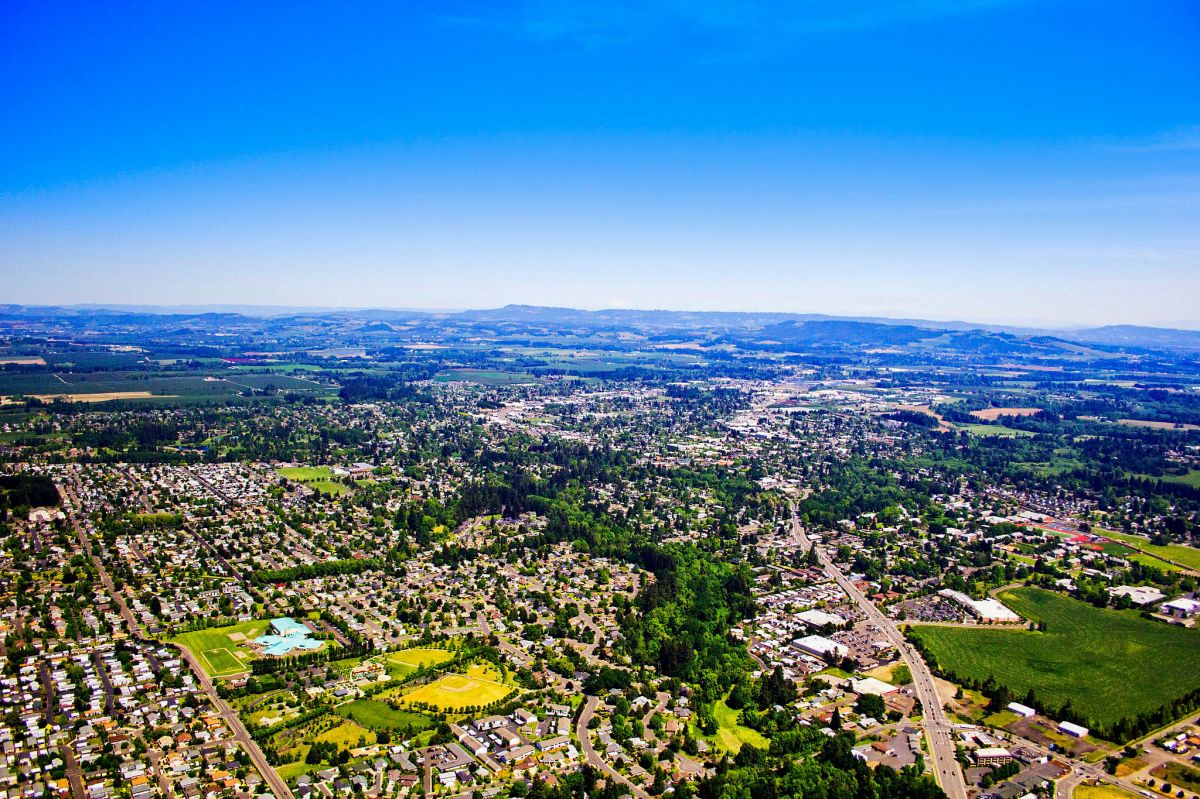 We all know the expression "hindsight is 20/20", and over the last 16 months or so there has been a lot of speculation and conversation about the year that no one saw coming. But global pandemics aside, McMinnville is a place that was founded on innovation and thinking about what's next, and as a result, we are positioned for a very bright future. Henry Ford said that "patience and foresight are the two most important qualities in business." We tend to agree, with the caveat that the third most important quality is an engaged and supportive community.
With a diverse group of manufacturers, tech startups, agriculture, food and beverage production, aerospace, and more, McMinnville and the surrounding areas are an attractive location to start and grow a business. With available industrial land, one of the lowest combined utility rates in the state of Oregon, reliable broadband, a skilled workforce, not to mention an award-winning main street, amazing restaurants, and a sense of community, McMinnville has it all. Thanks to the foresight and planning of community leaders like McMinnville Industrial Promotions, McMinnville Water and Light, the Economic Vitality Leadership Council, our local and regional partners, and the leadership within the City, McMinnville is a community where industry, creativity, and people thrive.
McMinnville was the first city in Oregon to operate a municipally owned water and electric light plant. In 1888, we became the first city in the Pacific Northwest to supply electricity to every building. In 1905, the McMinnville Water & Light (MW&L) Commission was created and began making decisions that impact us still today. For example, in 1925 the commission adopted a resolution that laid out the steps to create a watershed that would protect the city's water supply from contamination.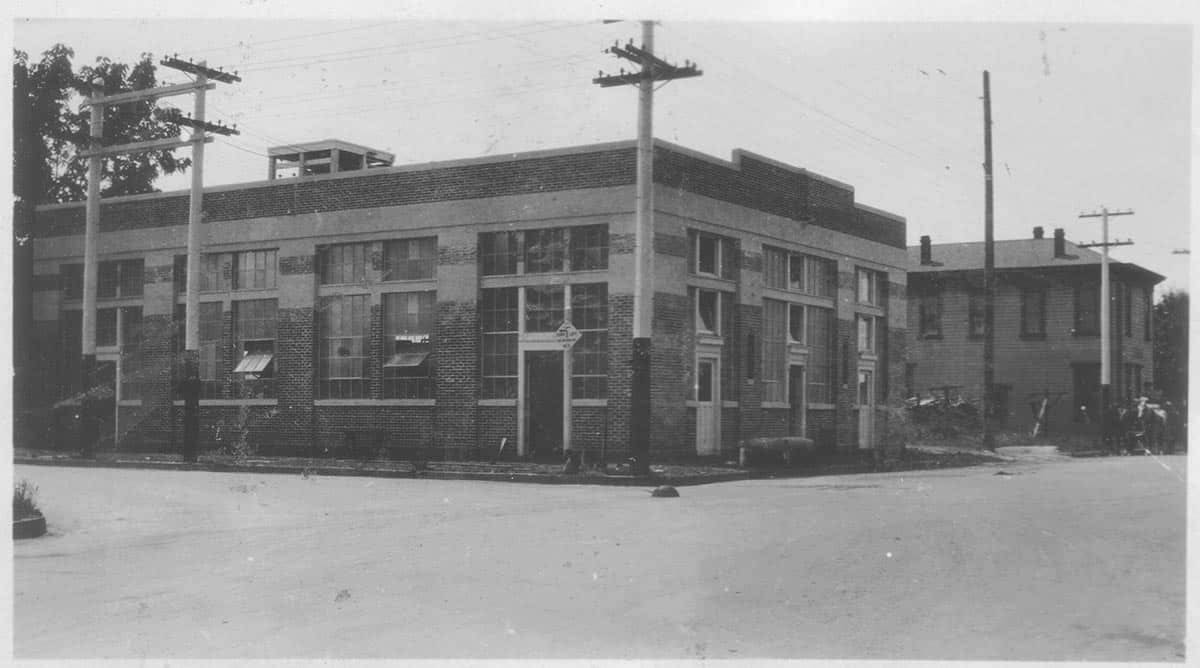 McMinnville's Old City Power Plant, constructed in 1924, now holds Elizabeth Chambers Cellar
"At McMinnville Water and Light we are always thinking 20-30 years to the future or farther. As a utility municipality, we need to be responsive to the needs of the community. We've had leaders in place for over 130 years who have had the foresight to look to the future, and that has helped ensure that our community has reliable, low-cost, water and electric service. We also pride ourselves on serving the community and that means having excellent customer service." -John Dietz General Manager McMinnville Water & Light.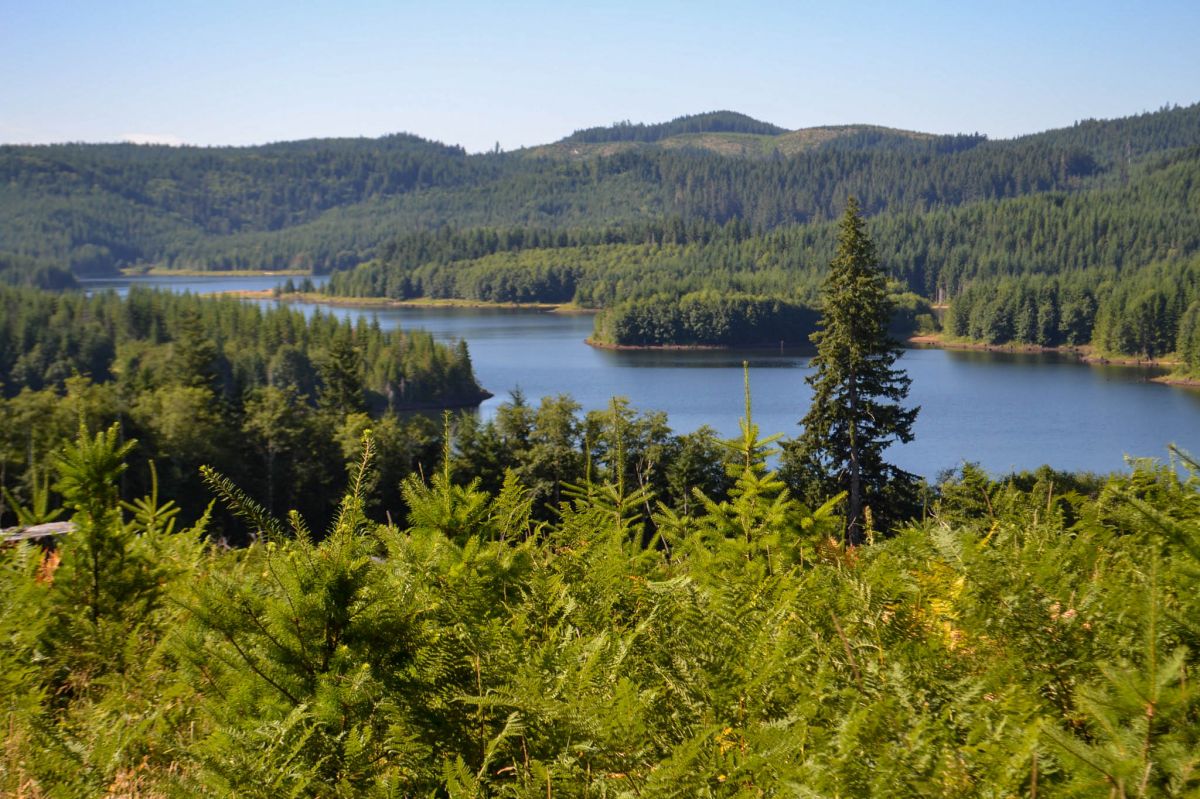 The addition of the McGuire Reservoir to the watershed added 3.5 billion gallons to McMinnville's water source
And it's not just our water and light leaders who are looking at the big picture and thinking about the future needs of our community.
"The City continually invests in infrastructure improvements through forward-thinking Master Planning of its wastewater facilities, conveyance systems, and transportation systems," says Larry Sherwood, Engineering Services Manager for the City of McMinnville.
The economic and social health of our community is also strongly supported by access to broadband, and OnlineNW has been committed to bringing this service to Yamhill County for more than twenty years.
Kathy Tate, the CEO of Online NW said "We understand that in an increasingly digital world, residents in rural areas are at risk of being left behind. Broadband enables residents to work remotely, run businesses effectively and connect to global markets, even enabling individuals to start and grow businesses even in a down economy. This past year especially, we rose to the occasion to help make remote schooling for k-12 to college accessible in our service area. We love that our customers can utilize e-commerce easily, stay connected to friends and family, access online entertainment, and use new tools for smart homes and smart agriculture that wouldn't otherwise be possible." In support of all this, OnlineNW is currently building fiber in Amity and Carlton and expanding their wireless coverage in part with grant money received from the County along with their own investment. With more local, state, and federal funding opportunities, the elimination of the digital divide seems achievable, particularly in Yamhill County. OnlineNW is committed to being a strategic partner with our schools, government, and business community for the long-term economic development of our region.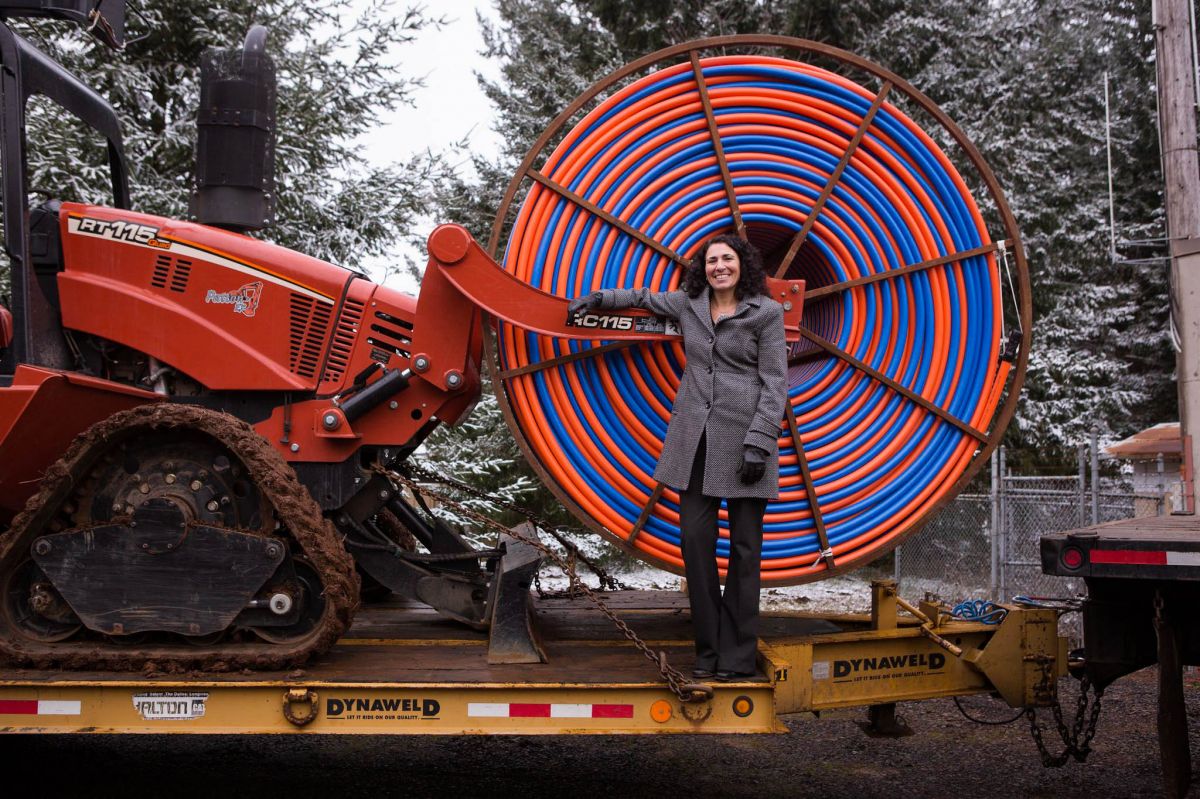 Kathy Tate of Online NW. Copyright 2014 Yamhill County
Speaking of long-term commitments, McMinnville Industrial Promotions (MIP) has been devoted to supporting the industrial growth and stability of our community for over 60 years. This group of dedicated local leaders purchase, develop, own, sell, and lease industrial properties in McMinnville, and they have been a key partner in attracting new industries and businesses. The volunteer board of directors freely shares their expertise and insight on behalf of a strong and more stable economic climate for all. Perhaps best known for their "9 in '69" campaign, where they single-handedly recruited nine new industries to McMinnville, including Cascade Steel Rolling Mills and Skyline Mobile Homes. Their recent projects include the road extension of Colvin Ct. in the Industrial District, building improvements at Meggitt, and they have several parcels of industrial land available for sale and development.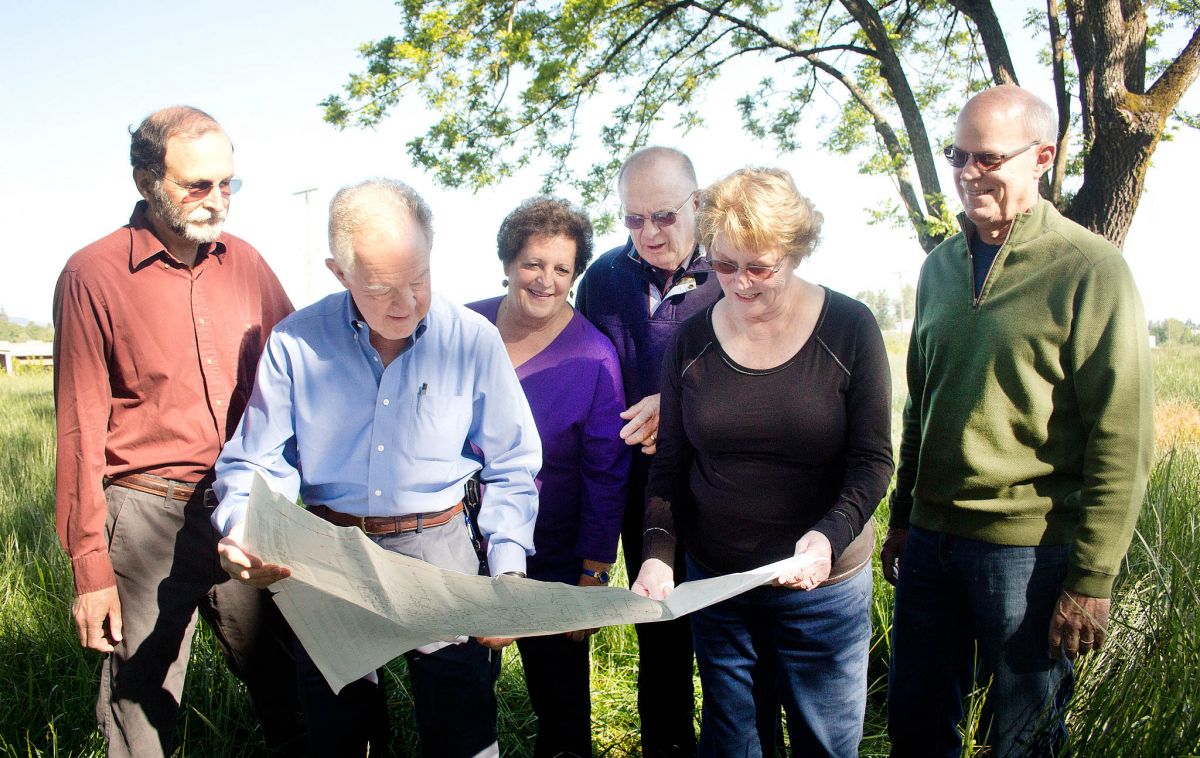 Past and Present Board Members for McMinnville Industrial Promotions at their 26-acre property in McMinnville's Industrial District
One of the benefits of being in a community built on planning and foresight is that it gives us the stability to focus our attention on what is coming next. With strong infrastructure already in place, we are excited to see new developments, business relocations, and our core companies being able to expand to meet their growing needs right here in our community. One such concept MEDP, the City, and our Economic Vitality partners are eager to explore is the development of an Innovation Center.
McMinnville Economic Vitality Leadership Council, an advisory board formed to focus on near and long-term high-impact strategies outlined in the Mactown 2032 Economic Development Strategic Plan, and the McMinnville City Council adopted planning and implementation of this Innovation Center concept as a priority economic development project in 2021 and 2022.
The IC, as we'll call it, is intended to be an approximately 120-acre industrial campus that serves as a host for research and development, craft industrial entrepreneurial initiatives, and Class "A" office space, adjacent to the McMinnville Airport. This project is meant to fill a hole in McMinnville's economic development landscape for this type of campus that promotes high-density living-wage jobs.
"The development of an Innovation Center is such an exciting opportunity for McMinnville," said Heather Richards, Planning Director with the City of McMinnville. "It's an idea that really helps us to build upon all of the great efforts and traits of our business community that thrive on entrepreneurship and community stewardship."
This local Innovation Center project is very complementary to the 10 Year Innovation Plan, recently released by the State of Oregon. Its focus is on innovative traded sector industries and nurturing a robust entrepreneurial ecosystem that supports cutting-edge technologies, products and processes, and marketing Oregon as having an unparalleled quality of life. It's almost like this State-wide plan was crafted with McMinnville specifically in mind.
Our community already has a variety of industries and innovators, a collaborative business climate, and room for new companies to grow. We are home to a number of tech startups who are tackling issues like digital forensics and developing open source Enterprise Resource Planning. We have manufacturers who creatively pivoted and developed UVC sterilization lights to help fight the spread of covid in schools, and the world leader in recycled rubber technology is based right here in our community. Many of our businesses figured out early that our positive business climate + livability = a place where innovation can thrive. At MEDP, we are always striving to support the needs of our companies, and support the healthy growth and sustainability of our economy, but we couldn't do this work alone. When you do business in McMinnville you are part of an extended family, and we look forward to welcoming you with open arms. Give us a call. 503.474.6814.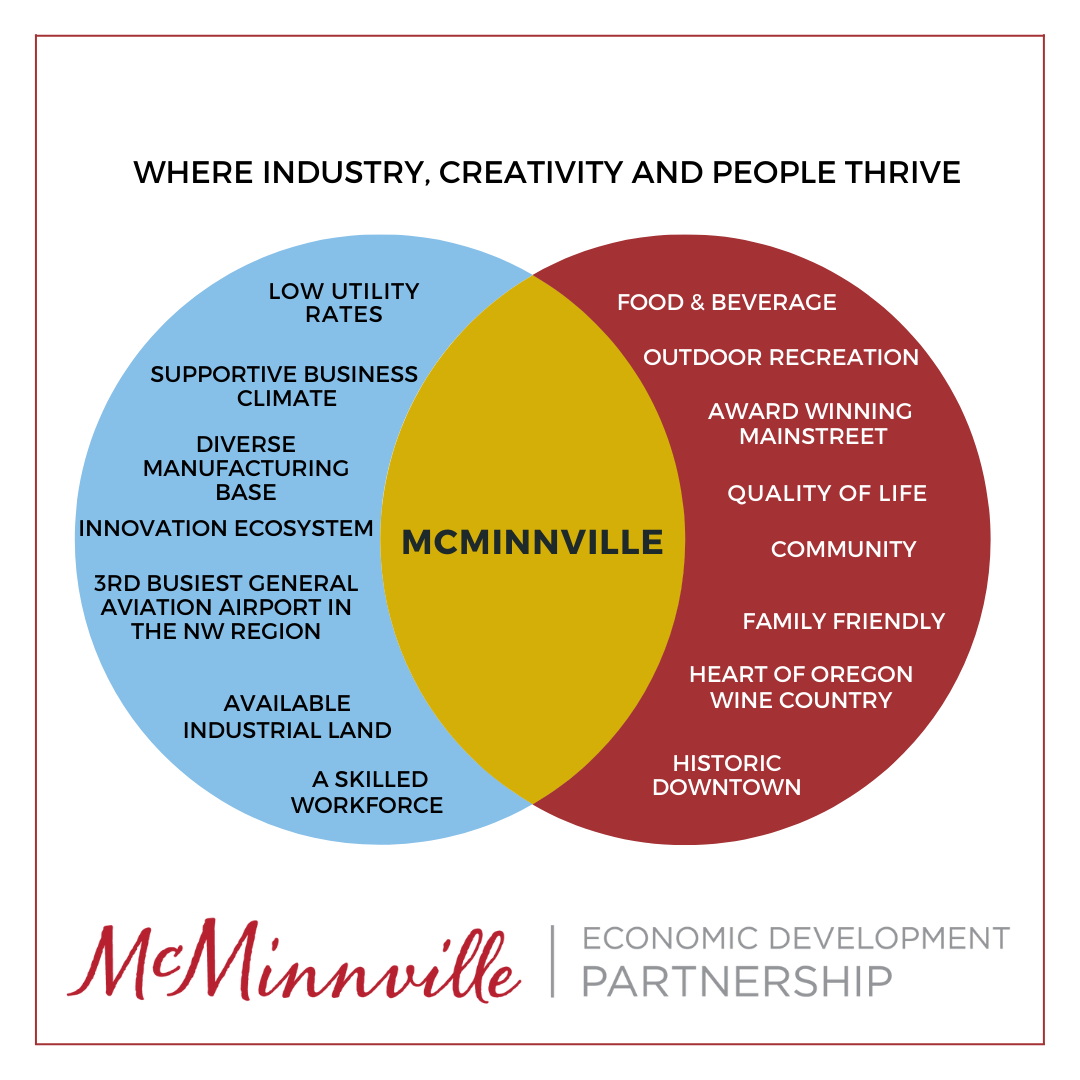 ---
This article was written for and first appeared in the 2021 edition of Made in Yamhill County by MEDP Communications Coordinator Tayler Brisbin. Click below to view the full publication.