MEDP Honors Three Local Firms
Oct 11, 2016
(Courtesy of David Bates at the News Register, 10/11/16)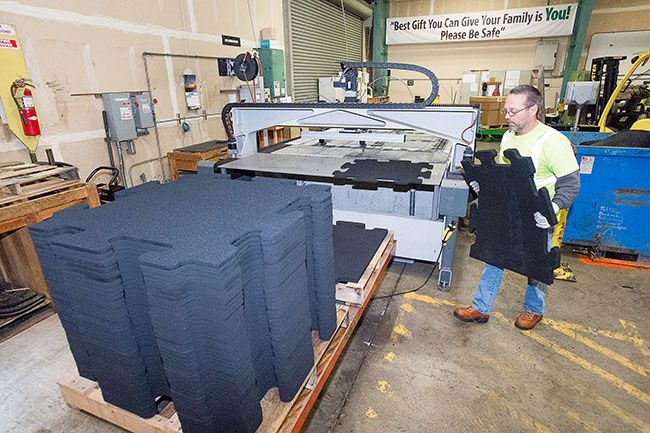 Marcus Larson / News Register -- Larry Smith piles up completed megalock rubber tiles used for school gyms
Three local businesses were honored Friday by the McMinnville Economic Development Partnership. The presentation marked McMinnville MADE Day, coinciding with National Manufacturing Day.
Manufacturer of the Year honors went to Ultimate RB. Operating out of facilities on 10th Street, next to the railroad tracks, the company is a global leader in recycled rubber technology.
It was founded in 1985 to make matted products from recycled tires. In the mid-1990s, it developed a molding process for playground safety tiles and similar products.
Ultimate RB recycles more than 5 million tires annually, keeping them out of local landfills. Project engineer Dan Dunham and controller Paul Headley accepted the award.
Shon Holyfield and Shahab Emrani of Tax Transaction Resource were recognized as Manufacturing Leaders of the Year for their contribution to economic growth and workforce development.
The firm, located just east of downtown McMinnville, handles tax questions from companies throughout the country. It employs more than 60 tax attorneys, software designers, accountants and sales staff in that pursuit.
The company has been recognized by Business Oregon as a top place to work in medium size classification and by The Oregonian as the top small company workplace in Oregon.
Also honored was the Oregon Manufacturing Extension Partnership, a Salem-based consulting firm engaged in manufacturing and workforce development. The award recognizes the contributions of partnership consultant Gary Conner, who has worked with a number of McMinnville's manufacturers, including Meggitt Polymers & Composites and eCNC.
The MEDP is a nonprofit advocacy group for local industry. It is affiliated with the city of McMinnville, McMinnville Water & Light, McMinnville Industrial Promotions and the McMinnville Area Chamber of Commerce.
According to the MEDP, nearly 2,300 of McMinnville's more than 30,000 residents work for one of its 85 manufacturers. Collectively, they have a payroll of more than $108 million.
Friday's event marked the group's 10-year anniversary.
To see the whole article, visit the News Register Website.