Alt Coworking Space set to Open in Downtown McMinnville
Aug 12, 2021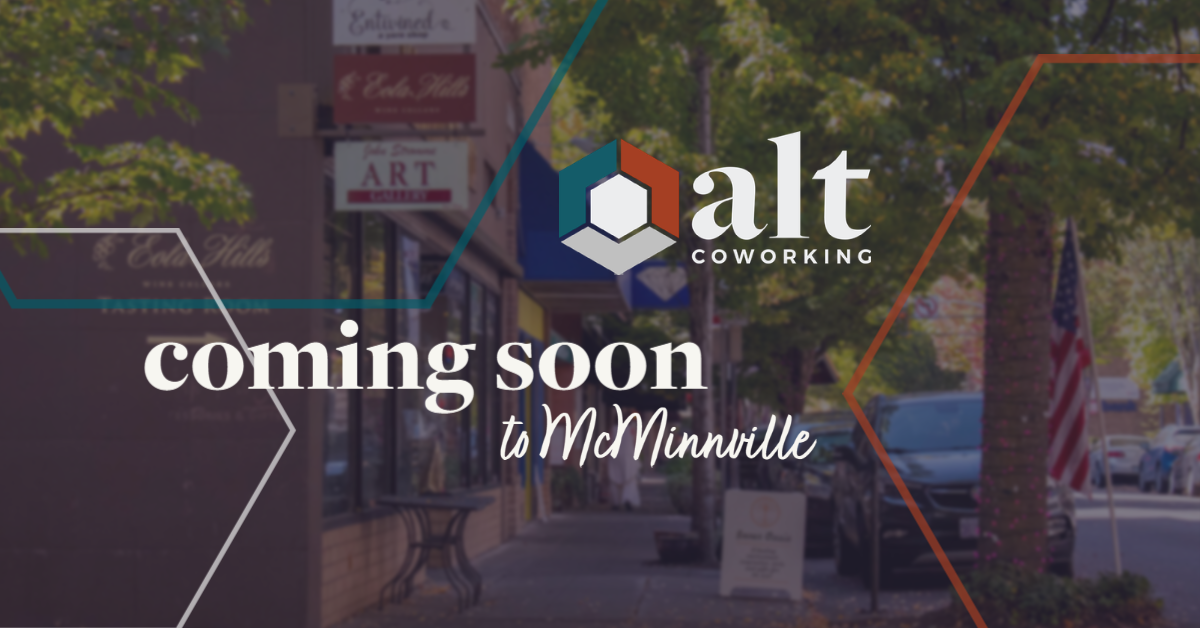 It's finally here! Alt Coworking, the first space of its kind in McMinnville, will be having a ribbon-cutting and grand opening on Friday, August 13th at 9:30 a.m. (609 N.E. Third Street). The space will allow workers or small businesses to rent desks in a shared work environment.
We connected with owner, Casey Hostetler earlier this year when she was still finalizing location details, to learn a bit more about her vision for the space and her entrepreneurial journey.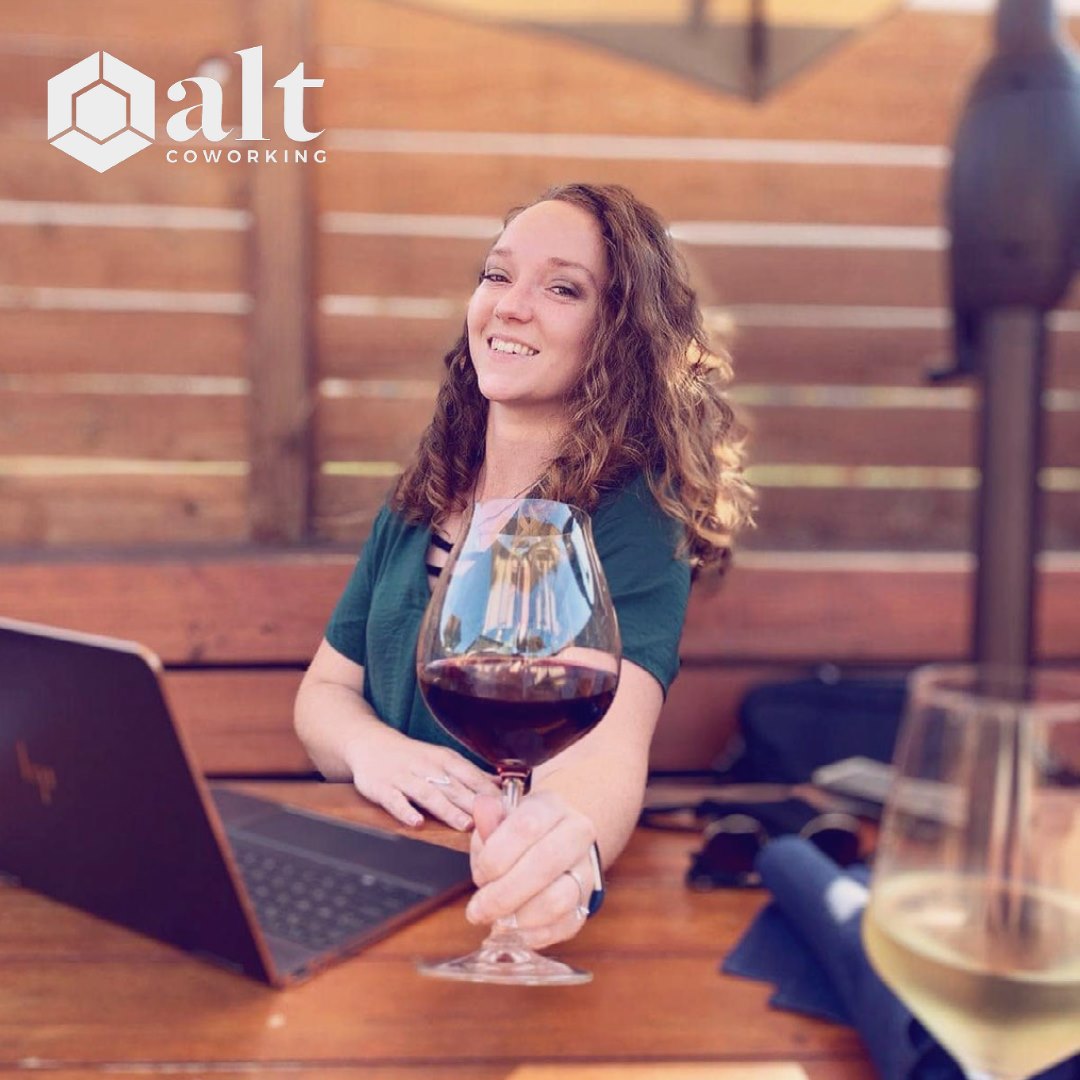 MEDP: What is the story/ History behind Alt Coworking?
Alt Coworking started out as a concept for a rentable photo and video studio, with equipment and props. It was also going to include open tables and desks for creatives - a sort of office environment for people like myself who needed to stop working from home. I've been running my marketing business from the living room of my 1 bedroom apartment for the past year, and it isn't a productive environment, nor is it helpful for meeting with clients. I dreamed of an office for my marketing business that could also provide valuable resources for other small businesses. That idea quickly grew into being a full-fledged coworking space, with all the office essentials.
Give us your vision for the space:
I see Alt Coworking as being a hub for startups, entrepreneurs, and business professionals. It will be a place where a business owner can productively get work done, brainstorm ideas, and build great and lasting relationships with the other members. With so many different businesses working together under one roof, I know amazing things will come from this. Members will be able to count on each other for their skills, network, and ideas. I'm so excited about it! For aesthetics, I conducted a focus group last summer and the most prevalent requests were lots of natural light and plants. Guaranteed - there will be lots of natural light and plants.
When did you get started?
I've been working on the plan since July of 2020, and am excited to be opening the doors for Alt Coworking in August of 2021!
What specific obstacles/roadblocks did you face when going through the startup process?
Even though I currently have my own business, it's not nearly as complex as Alt has been. (I didn't have to write a business plan, seek funding, find a commercial building, etc for a marketing business as a sole proprietor.) A couple of hurdles I found with Alt were actually having the time to work on my business plan, find a building that fit my vision, and finding people with capital who believed in the idea just as much as I did. Additionally, I had hoped to apply for some startup grants, but due to the pandemic, they were not available. 12 months seems like a long time, but I know I'm really fortunate to have come this far, as I understand that it typically takes much longer to launch a coworking space, based on some industry news and connections. Another is that the domain we wanted (altcoworking.com) was owned by another coworking business, but was forwarded to their other domain. I'm happy to say, though, that we're in the process of purchasing that domain and should have a website built soon.
What has the last year been like for your business/ starting a business and dealing with the Pandemic?
Strangely, it's been helpful. The pandemic seemed to accelerate the need and my desire for a coworking space in McMinnville. Despite the in-person meeting limitations, I was still able to hold a focus group. tour commercial real estate sites, and talk to several supporters about the idea. Additionally, being restricted to working from home, I've become exceedingly passionate about working anywhere else but at home.
Do you have any advice for other entrepreneurs?
First, find yourself a solid, trusted tribe of people who:
- You can brainstorm with. You need a variety of perspectives and ideas! Some of Alt's best ideas didn't actually come from me!
- Will ask you the hard questions. Maybe there are some things that you didn't want to think about regarding your startup, but the right people (who care about you and the success of your business) may bring up those difficult questions or conversations, and you will be better for it.
- You can lean on for support when you are stretched thin. Things won't always be sunshine and rainbows, and your tribe is willing to step in during the storm to help out. (But this requires give and take, so be sure to give back to them as much as you receive!)
And Second: get involved in the Chamber, service groups, networking events, and volunteer for things. The people you meet there just may become part of your tribe! Also, it's extremely helpful as an entrepreneur to "know people" who you can reach out to when you launch.
Finally, find a group of people who are doing what you're doing, and learn from them. As an example: I found a Facebook group dedicated to people who own coworking spaces around the world, and I listen to a coworking podcast weekly. The resources I've received have been invaluable, and I don't think I'd be where I am without those tools.
What are you most excited about for your business in the next year? The next 5 years?
I'm excited to get people into the space and see what collaborations are born. I envision a wide range of businesses filling the space, such as workers who need a desk and address, but perhaps don't want to rent and furnish an entire office for themselves.
For the next five years, I want to grow Alt by adding other locations - specifically, one in Newberg! Though Newberg is smaller than McMinnville, being closer to Portland may attract other small business owners from the city and out to our lovely county for additional economic growth.
Is there anything else you would like people to know about the space/ business?
Memberships are $195 a month for a "drop-in" flex space or starting at $500 for dedicated desk and storage space.
A conference room, lounge/kitchen area, and other amenities are included.
And don't forget to check out the grand opening celebration on Friday, August 13th at 9:30 a.m. (609 N.E. Third Street)
---
For more information or a tour, call Hostetler at 503-583-2605, or email casey@altcoworking.com
Alt will be posting updates on Facebook & Instagram, and anyone can get on their mailing list by sending Casey an e-mail at the address above.