MEDP Spark - Conversations Worth Having and Community Connections
Feb 13, 2020
MEDP Spark, Volume 5, Issue 2 -- February 2020
View from the "Introverts Lounge" at the first Assemblage Symposium
January is sometimes viewed as a quieter month here in McMinnville. After the busy holiday season it's a time to connect with neighbors, re-establish routines and root into the community. For some, January is a time for gathering intentions, goals, and setting the overall tone as the year begins to unfold. The start of the new decade saw two innovative, inclusive-focused events come to life in our community, both of which seemed to be the perfect pairing of connections and aspirations for the year ahead: The first ever Assemblage Symposium, and the second annual TEDxMcMinnville.
What started as a casual conversation one evening after the International Pinot Noir Celebration (IPNC), eventually led Assemblage founder Rachel Adams to establish a non-profit organization aimed at the advancement, empowerment, and education of women and diverse communities in wine. The First Assemblage Symposium took place January 14-15, 2020 at Mac Market and a handful of other locations throughout Yamhill County.
Though Assemblage was conceptualized and developed out of the wine community, the Symposium covered topics with a much broader reach. "While Assemblage speaks directly to the barriers women and diverse communities face in wine, this movement is for anyone invested in workplace-based social change." Said Adams. " We give so much of ourselves and our lives to our careers. It's imperative that we spend time and resources making sure our work works - for ourselves and our families, for each other, and for the greater good." When asked what she hoped the biggest takeaways were from the symposium Adams said "My biggest hope was that attendees would realize they are not alone in whatever concerns or challenges they deal with...So often professionals feel pressure to hide their values, to disguise anything 'controversial' about themselves...It can be incredibly difficult to stand up for yourself or someone else if you've erased yourself in order to be successful at work."
As a result, the two-day event looked and felt a little bit different than other wine seminars and events out there. Vulnerability is a bit of a buzzword these days thanks to renowned researcher and author Brené Brown, but even so, it's not often you get a group of industry leaders together having discussions on topics like Failure, Competition vs. Collaboration, how to be an Ally and what it means in your industry. There were breakout sessions on Imposter Syndrome and battling negative self talk, How to build diversity and inclusivity into your workplace culture, and establishing your values in a performance driven environment. There were some more expected topics as well like "How to be your own PR machine" and "the State of the Wine Industry for Women" but the overarching theme of Assemblage seemed to be taking these colloquial topics and giving them a platform.
Mindful movement sessions, meditation, intention setting, and the occasional dance party were also sprinkled in throughout the programming, ensuring that attendees were taking care of their own well-being, and the result was a conference full of authentic connections. One tool used to facilitate these connections was an app for attendees that listed out the schedule, had speaker bios, venue maps, a place for announcements, and a quick way to share contact info between attendees. The app also allowed guests to either identify themselves as a potential mentor or as someone in search of mentoring. Assemblage has collected those requests and hopes to produce a follow-up event this spring to match women with mentoring relationships and opportunities to gather, as well as resources to inspire deeper conversations throughout the year.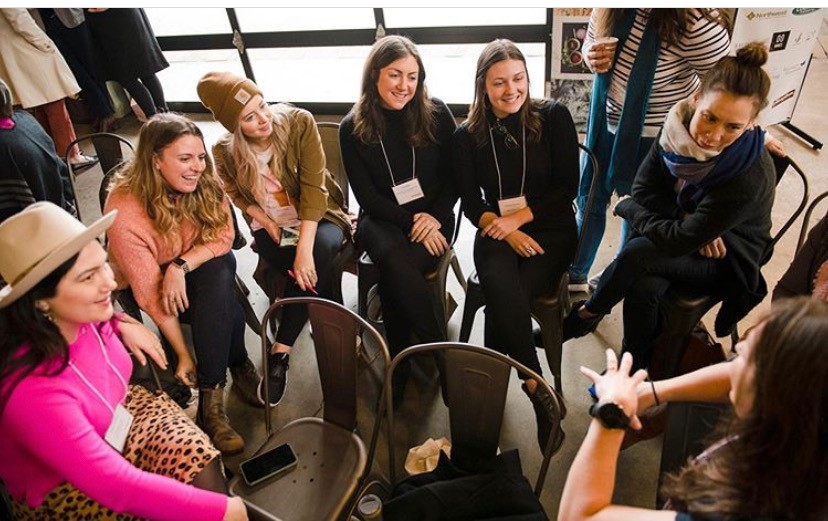 Assemblage attendees gather in a small group discussion during one of the break-out sessions
Speaking of catalysts…Assemblage even gave attendees a little taste of what was to come at the second annual TEDxMcMinnville. There was a morning break out session devoted to ideas worth spreading, and some of the discussion questions included "Is imperfection an act of bravery? Who taught you, or is teaching you to be brave? What are you teaching?" This TEDx teaser was the perfect way to ensure that these topics stayed in the forefront of attendees minds, and also raised awareness for other community events where they could keep the conversation going.
For those unfamiliar, TED is a non-profit organization committed to the spreading of ideas. TEDx is a grassroots initiative that brings the essence of TED to local communities around the world. These local, self-organized events are branded TEDx, where x= independently organized TED event. TEDxMcMinnville celebrated its second annual event on January 25, 2020 at Linfield College under the theme "Currents."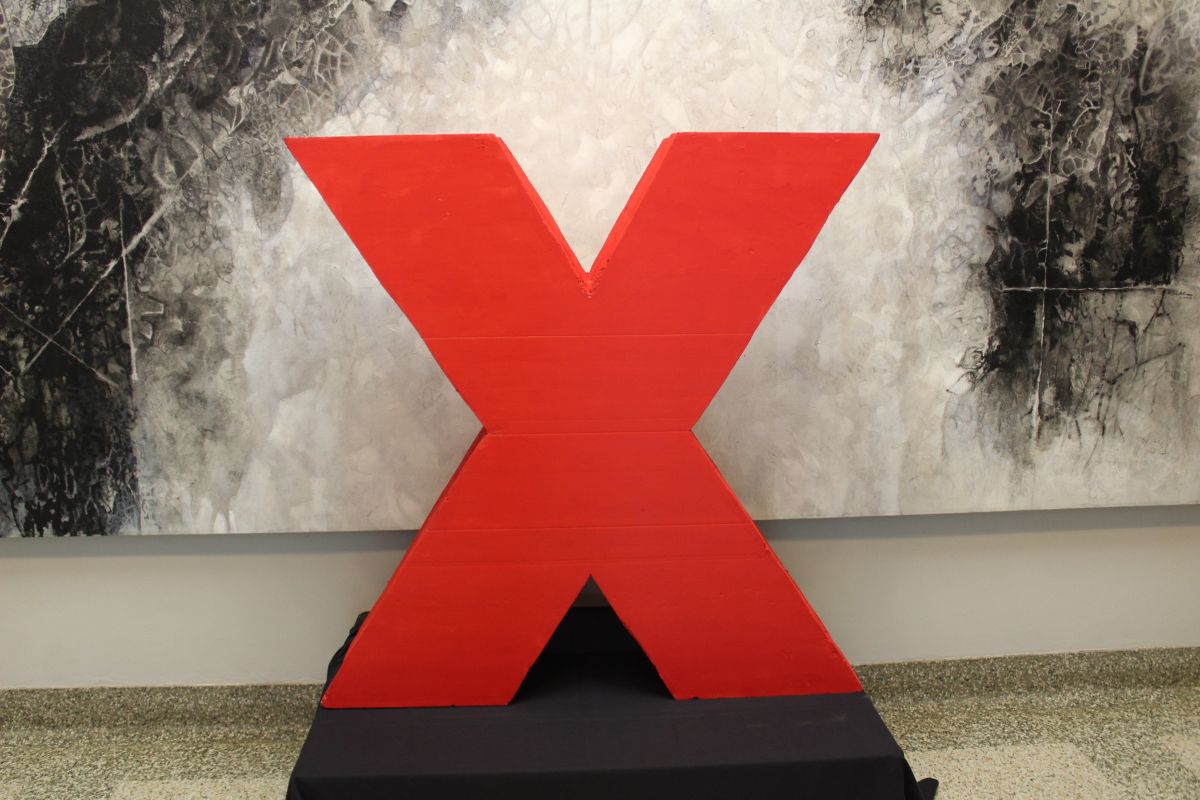 Currents, delightfully, has many interpretations from current events, fluidity, electricity and so on, and this overarching theme led to an afternoon full of diverse topics and performances. Attendees heard from local Teachers, CEO's, Professors, Authors, Doctors and Experts during this half day event.
McMinnville High School Teacher Matt Brisbin shared how he has been able to integrate a gradeless system into his classes, which has increased his students curiosity and help foster a larger sense of community within each of his sessions. Natalie Bowker, a Counselor at Linfield College and a Licensed Marriage and Family Therapist offered her expertise on embracing ambiguity, specifically "Ambiguous Loss." Christine Bader the former Director of Social Responsibility for Amazon spoke on "The Life I Want" which was much more about community and a sense of purpose than it was about being successful in the corporate world, and Patrick Galvin gave insights into how connection, service and relationships lead to greater success in business and a happier life. Linfield Alumni Cinthia Manuel gave a dynamic talk about the impact of Mentoring and how it is the most underutilized secret to success. She also advocated for mentees to be the driving force in the mentee/mentor relationship to make sure they are gaining the skills, insights and support they need to advance.
The support from the community for both Assemblage and TEDxMcMinnville was overwhelming. There is an eagerness in McMinnville for these topics, events, and conversations to take place. Both events had an emphasis on inclusion, forming authentic connections, and ways to enhance our communities and local industries.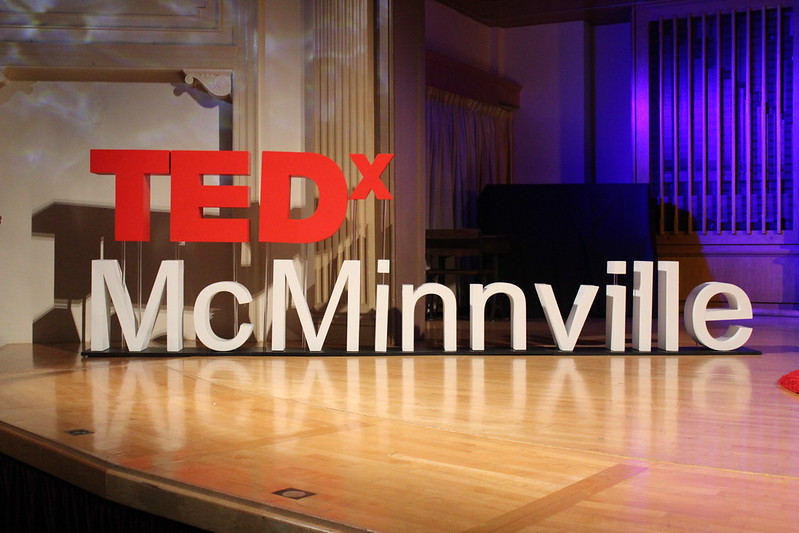 TEDxMcMinnville Founder and Lead Curator Kitri McGuire said "This event is executed entirely by local individuals who volunteer their time and expertise… They have made the time, carving out hundreds of hours because they believe in our community. They believe in the importance of discussion, of doubt, of facts, of experience, of listening, of togetherness despite differences, of asking questions, and most of all: of the importance of big ideas being shared and spread." Matt Brisbin noted it was obvious from day one how invested the community was in the success of the program, and he was excited to be participating in an event that encouraged people to come together and share their ideas.
Attending Assemblage and TEDxMcMinnville left us feeling inspired and thinking "What's next in our community?" We are keeping the entrepreneurial spirit alive with our 2020 strategic goals: Business Retention and Expansion. Workforce Development. Business Attraction and Innovation Development. Are you ready to get your next big idea off the ground? Join us and LAUNCH Mid-Valley for a Startup Bootcamp Feb. 28-March 1st.
This weekend intensive will use lean startup strategies to help get a business to the next level. Attendees will present ideas, form business teams, develop a business plan, work with mentors and eventually pitch to a panel of judges to win over $5000 in cash and consulting services. Register by February 21 at: https://launchstartup.eventbrite.com
We are energized by the ingenuity, compassion, and all the people who are willing to facilitate these meaningful events and conversations. Let's keep up the momentum! We'd love to hear what your big ideas are and how we can help support them.
Contact: 503.474.6814 | scott@mcminnvillebusiness.com
---
Summer 2020 Internship Applications Now Open!
Know a student looking for summer career experience? There are currently 20 full time, paid positions in a variety of industries available in the McMinnville area for the Summer 2020 program. Positions range from mechanical engineering to social media marketing and everything in between! Select your area of interest on the application.
McMinnville WORKS (collegiate) Apply by February 14, 2020
Career Bound (Yamhill County recent high school graduates) Apply by February 21, 2020
___
Oregon Manufacturer's Summit- March 13, 2020
Use MEDP Discount link to register!
Join Oregon's leading manufacturing companies in a powerful business strategy game. READY OR NOT is a competitive, event-based simulation that brings real-world challenges and solutions to life. Teams work to understand threats and opportunities, then make strategic decisions to invest limited resources. This powerful experience builds understanding, expands your business tool set, and encourages a new perspective to prepare you for tomorrow's business challenges. Attendance is limited to Manufacturing Companies.