McMinnville WORKS 2023: Reminiscing, a Decade of Building Workforce in McMinnville
Aug 15, 2023

Ten years ago the McMinnville Economic Development Partnership (MEDP) started the McMinnville WORKS Internship Program. Designed to help the community to grow our local workforce by providing full-time, paid summer internships. Throughout this program, we have had over 1,400 applicants, over 30 host sites, and over 150 interns. This award-winning internship program attracts candidates from all over the country, not just the Pacific Northwest, including Ohio, Texas, and Alaska students.
Deven Paolo describes "The original intent was to address the workforce needs of businesses and introduce the variety of employment options that are available to job seekers. Hiring the right people always ranks high on the list of challenges that businesses face. This program was quickly recognized around the state as an innovative solution. It has been replicated in other counties around the state (Oregon WORKS). Many interns have been hired as full-time employees after their internship ended. The McMinnville WORKS program has strengthened relationships between businesses and our emerging workforce." Deven Paolo serves on the MEDP Board. He is also one of the founding members of the industry-led steering committee that established the McMinnville WORKS Internship Program.
The McMinnville WORKS Internship Program connects local businesses and organizations to talented young collegiate professionals through project-based internship opportunities. Internships are 9+ weeks, full-time, paid, offers weekly professional development through community engagement and is held during the summer.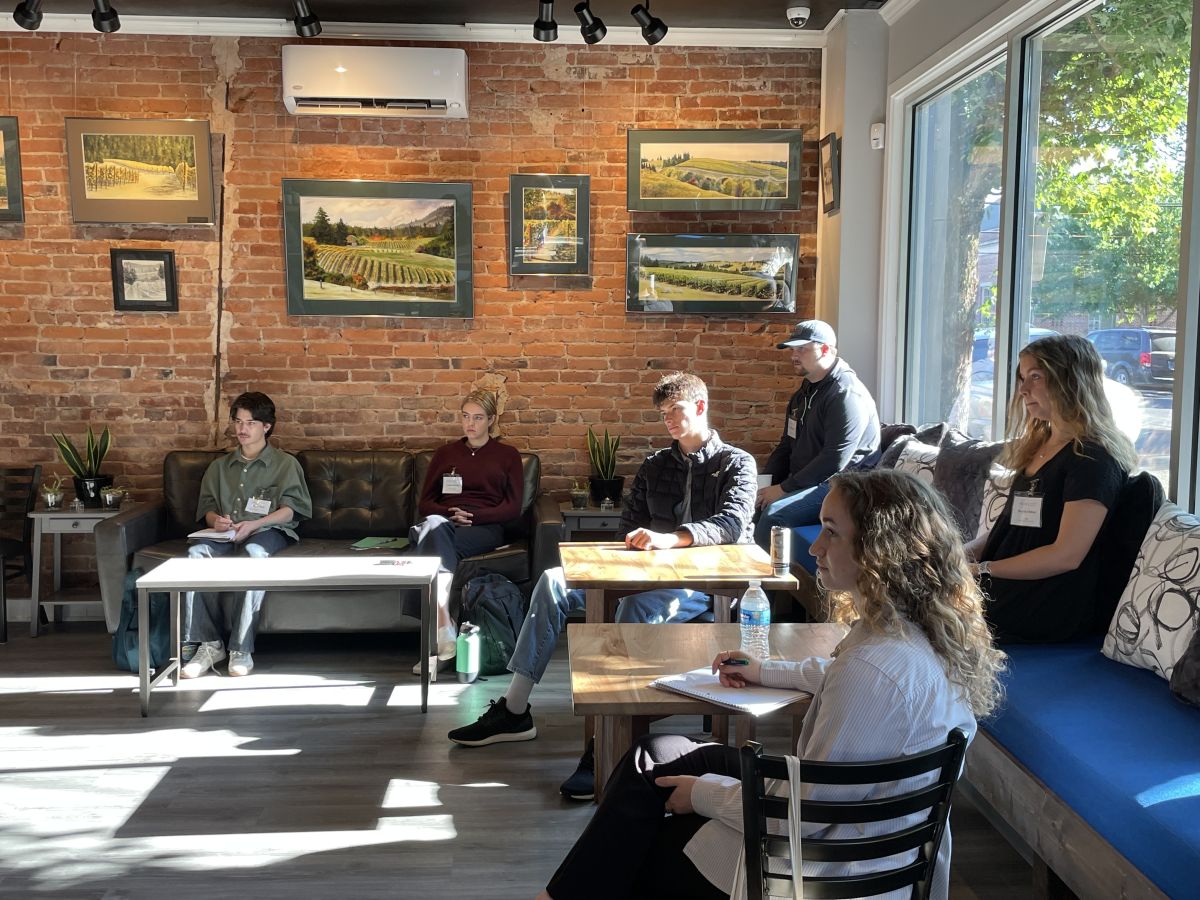 2023 McMinnville WORKS Intern Cohort at NW Cru for the second professional development workshop. This workshop consisted of an entrepreneurship panel featuring James Tate (NW Cru), Heather Miller (The Ground), Diana Riggs (Mac Market), and Helen Anderson (HelloCare).
This summer we had over 100 applicants apply for the McMinnville WORKS Internship Program. Each year the program averages 14 interns and 10 host companies. While the interns are primarily focused on their project-based internships in each of their companies, the McMinnville WORKS Internship Program provides weekly professional development workshops. We believe it is essential to provide a well-rounded internship experience: improving professional skills, networking, community involvement, and personal growth.
This summer the McMinnville WORKS Internship Program Coordinator Emma Campbell partnered with her school, Linfield University in writing LinkedIn posts documenting her internship journey. Click here to read more about Emma's experience this summer.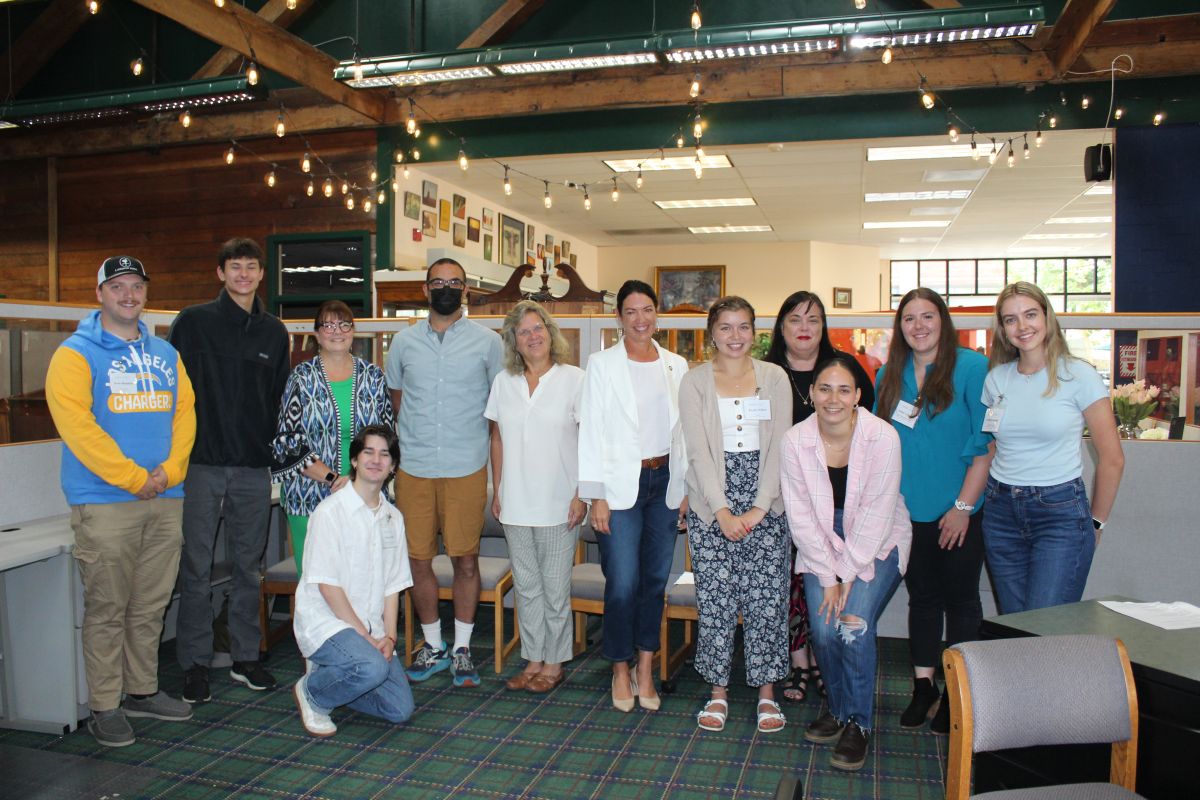 The third Professional Development Workshop featuring the 2023 McMinnville WORKS Intern Cohort and community leaders Doris Towery (McMinnville Downtown Association), Zack Geary (McMinnville City Councilor), Cami Nyquist (Swedemom Center of Giving), Lucetta Elmer (District 24 State Representative), and Heather Richards (City of McMinnville Community Development).
We have had five different workshops this summer consisting of hearing from our community leaders about leadership and civic engagement, how to be better at our own personal finances, and how to market ourselves and network to name a few! On top of the intern's busy schedules, they even took time to give back to the community and volunteer.
In the wise words of Doris Towery "Find community service opportunities and engage in your community. We need young people to bring their passion to make a difference. Invite yourself to the table and make your voice heard." Doris serves as the Executive Director of the McMinnville Downtown Association.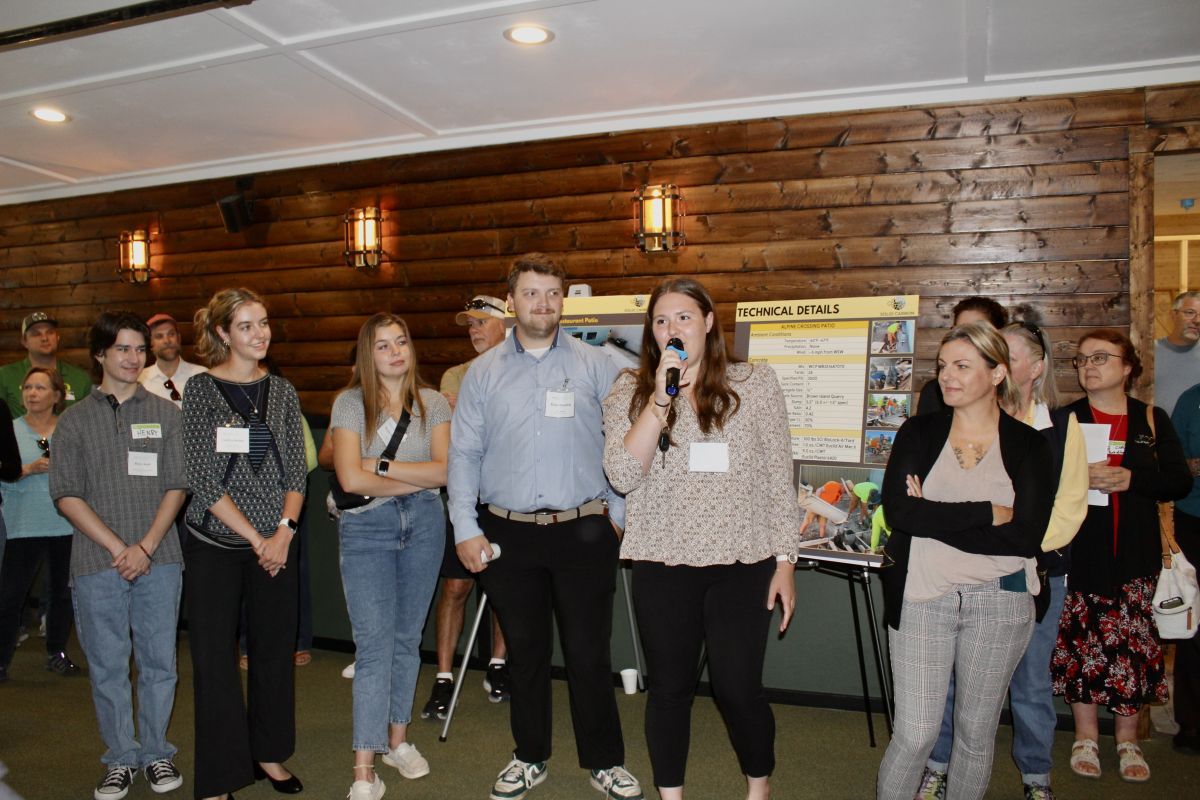 2023 McMinnville WORKS Interns Henry Stahl, Caitlyn Bering, Kaylee Schow, Reese Hamilton, and Emma Campbell speaking at the Chamber Greeters Event co-hosted with Jeff Glodt owner of Alpine Crossing and Grain Station.
The McMinnville WORKS Internship Program is like no other. The connections you are able to make in this community will last a lifetime. We strive to connect our interns not only with their companies but with other community members. Our interns hosted a Chamber Greeters Event where they spoke in front of 70 people and built personal networks.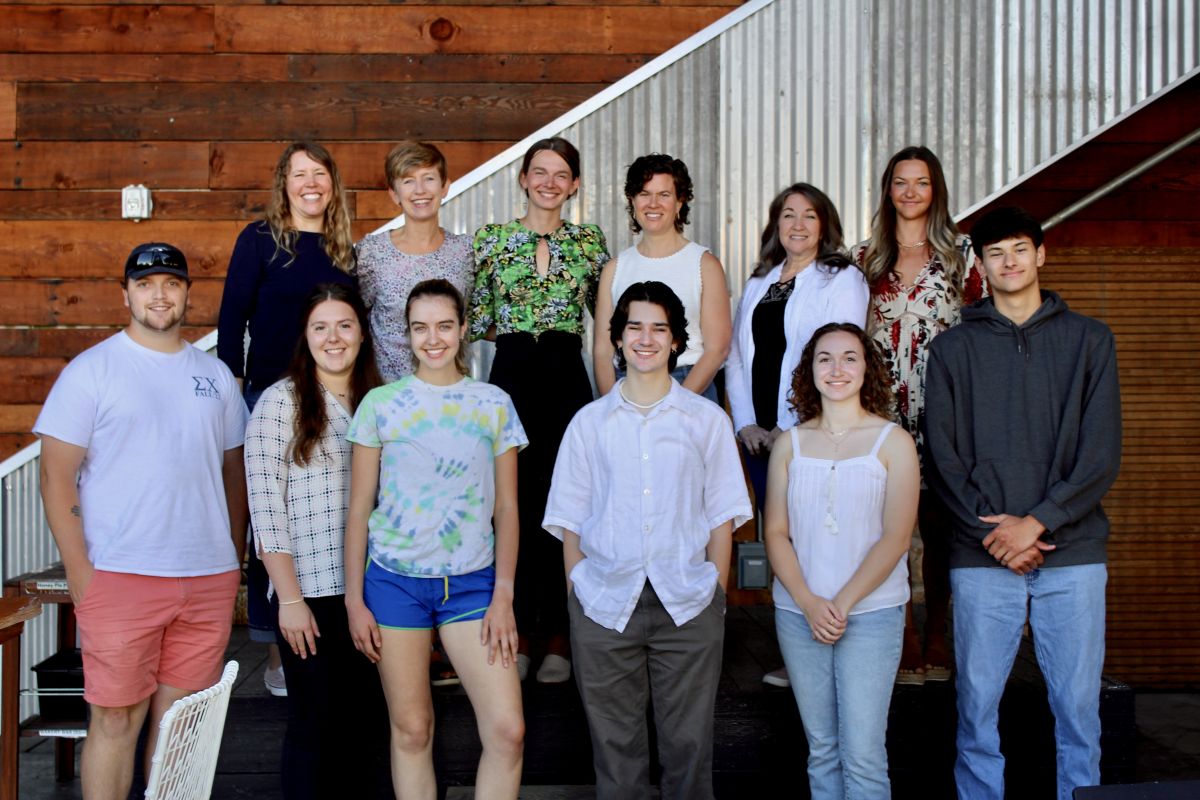 Back row Host Supervisors: McKenzie Roseberry (The Ground), Heather Hadley Blank (MEDP), Sayla Grom (Chapul Farms), Hilary Pickerel (The Ground), Julie Adam (McMinnville Water & Light), Natalie Rodgers (Cellar Ridge Construction)
Front row Interns: Reese Hamilton, Emma Campbell, Caitlyn Bering, Henry Stahl, Kaitlin McLearn, Elliot Price
Our program ends every summer by inviting the interns and host site supervisors together one more time. This year we celebrated at a local gathering space, Mac Market with coffee and pastries. We presented each of the interns with a certificate to celebrate all of the hard work that they put in this summer. While each of the interns has been working on their own projects over the summer, we all got to connect with each other and learn professional development skills together.
When asking our interns if their internship experience changed their future plans Elliot Price said" I found out that this (career path) truly is what I want to do for the rest of my life. It's not school that persuaded me, but this internship opportunity that was the deciding factor". Elliot Price is heading into his second year at Oregon State University. He interned at Cellar Ridge Construction as a Project Manager for the summer of 2023.
Our tenth year was successful with a small but mighty group of interns. Each of them has a bright future ahead with endless possibilities. The McMinnville WORKS Internship Program is successful due to the impact these students can make during and after the program. These interns have helped their companies in more ways than one. Interns provide new ideas and energy that can help an organization develop. Not only do these interns make connections within the community and with business owners, but they also get mentorship directly through their host site company. It is a win-win-win!
---
Where are they now?
A McMinnville WORKS Alumni Update


McMinnville WORKS was designed with the intent to encourage our emerging workforce to remain contributing citizens for McMinnville. Over the decade we have had nearly 60 interns hired to remain or come back after their studies to continue working in the community for varied lengths of time, some upwards of 3-5 years.
Three of the interns from the 2022 McMinnville WORKS are still at their companies today. Terran Maplethrope interned at Chapul Farms and has returned to work there this summer as a research assistant. Jamie O'Connell interned at the Swedemom Center of Giving as a software developer and is now working full-time as the lead software developer for them. Dominic Humlie interned at McMinnville Water and Light as a civil engineer and began full-time work with them in October of 2022 as a GIS/Drafting technician. Annika Selke interned at the Swedemom Center of Giving and she still works for them remotely during the school year as well as a production and data analytics specialist.
"McMinnville WORKS has been a crucial part of starting my professional career as a software developer. Without it, I wouldn't have gotten my internship with Swedemom as a Junior at George Fox, which has led me to be the Lead Software Developer after just one year with the company". Jamie O'Connell interned last summer with the Swedemom Center of Giving as a software developer. He is still working at Swedemom as the lead software developer.
Another one of the 2022 McMinnville WORKS Interns said:
"I am excited to see where my work takes me. I was recently promoted to Civil Engineering Technician in July which means I have additional responsibilities that take me out of the office, away from my computer screen and into the open air. I'm inspecting construction projects and documenting their progress along the way. McMinnville Water & Light and the folks at MEDP have been good to me and I look forward to returning the favor, paying it forward". Dominic Humile interned at McMinnville Water & Light in 2022 and was hired full-time after his internship. He is currently working fulltime as a Civil Engineering Technician at McMinnville Water & Light.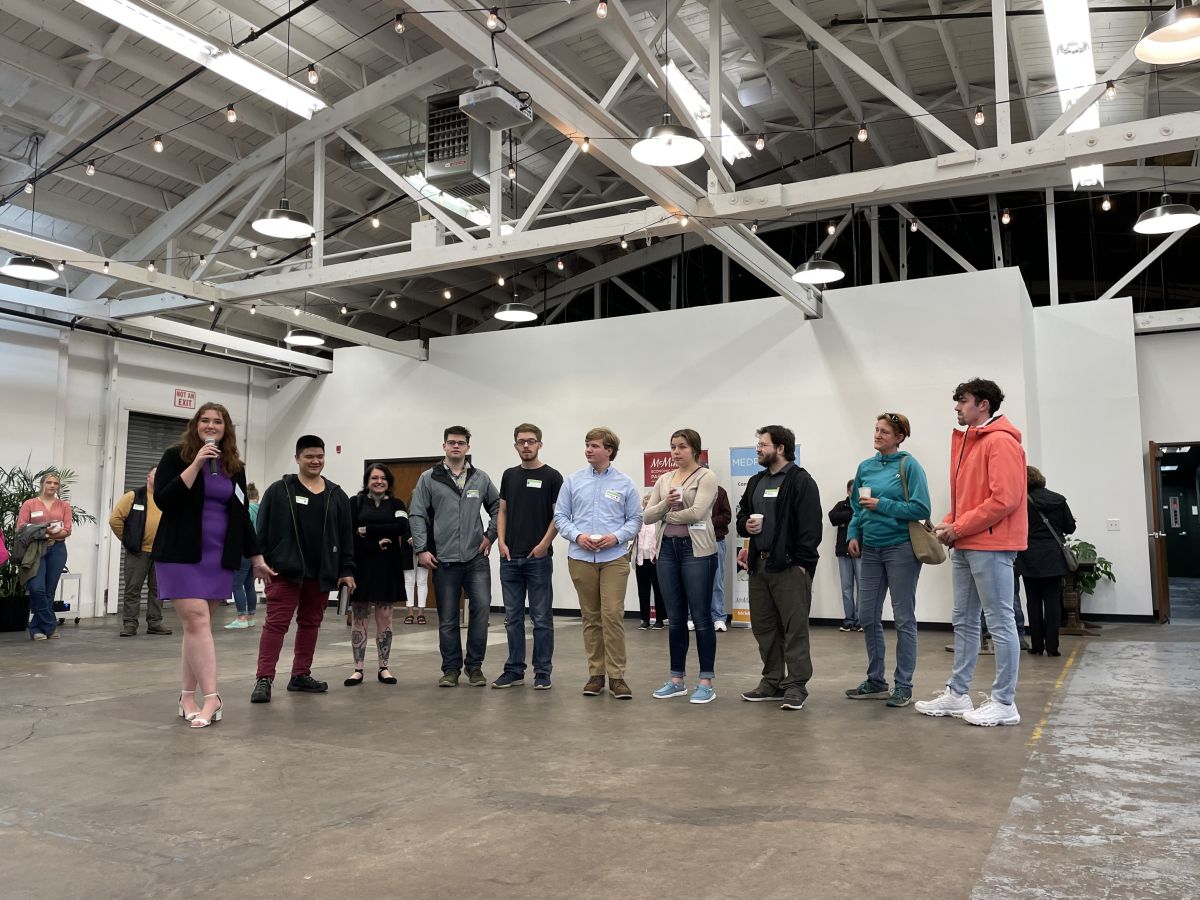 2022 McMinnville WORKS Intern Cohort at a Chamber Greeters Event.
The McMinnville WORKS Internship Program has a list of alumni. Every now and then we like to reach out to them to see what they are up to in their careers.
"My internship gave me the initial 'foot in the door' for my marketing career. They offered me the experience to learn social media, content creation, and website basics that I needed to make my way into my Senior Production Associate role now, which is focused on graphic design and project management". Lauren Anderson interned at Suite 4 in 2017 as a marketing intern. She is currently working at JLL where she recently got promoted as a Senior Production Associate.
"My current position is as a Lead Project Engineer with Potelco Inc. We do contract work for PGE creating designs to fix failed electrical infrastructure. From my internship with the City of McMinnville's Engineering Department, I received some insight into sending jobs out to bid as well as verifying that the construction crew was following the design. Another project that I worked on was with locates, where water and swerve lines met. From learning these skills I believe it was one of the reasons I got my current position with Potelco Inc." Jacob Bodge interned with the City of McMinnville's Engineering Department in 2018 as an engineering intern. He now works for Potelco Inc. as a Lead Project Engineer.
"Take the opportunity to ask questions and learn why others do what they do and how they achieve their goals, see where your goals are and if you see the future you want in those goals. Take this time to learn and adjust your trajectory. You are the captain of your own vessel, so set course to your desired horizon. Also, don't be too hard on yourself, now's the time to learn from mistakes and explore your options." Christian Smithrud interned at Solid Form Fabrication in 2013 as a social media intern. He currently works at Avalara as a Multimedia Designer.
Interested in learning more about the McMinnville WORKS Internship program? Give us a call at 503.474.6814 or email us at info@mcminnvillebusiness.com
This article was written by McMinnville WORKS Internship Coordinator Emma Campbell
---
Thank you to everyone that made the 10th year possible!
Professional Development Speakers
Kelly Williams Brown -- Linfield University
James Tate -- NW Cru
Diana Riggs -- Mac Marekt
Heather Richards -- City of McMinnville
Cami Nyquist -- Swedemom Center of Giving
Lucetta Elmer -- Oregon State Representative District 24
Zack Geary -- McMinnville City Councilor
Doris Towery -- McMinnville Downtown Association
Kevin Chambers -- Headwater Investment Consulting
Sandy Schultz -- First Federal
Holly Tate -- University of Oregon
Venues & Donations
Jeff Glodt -- Alpine Crossing & Grain Station
Host Sites & Supervisors
Jeff Gooden -- City of McMinnville - Engineering Department
Marci Humile & Julie Adam -- McMinnville Water & Light
Dan Wright -- Phenix Solutions
Carson Benner & Natalie Rodgers -- Cellar Ridge Construction
Cami Nyquist & Audrey Talbot -- Swedemom Center of Giving
McKenzie Rosenberry -- The Ground
Heather Hadley Blank & Patty Herzog -- MEDP
Interns
Emma Campbell -- McMinnville WORKS Internship Program Coordinator, MEDP
Kaylee Schow -- Data Processing Intern, MEDP
Reese Hamilton -- Data Analytics Intern, The Ground
Caitlyn Bering -- Soil Research and Community Outreach Assistant Chapul Farms
Henry Stahl -- Marketing Intern, Swedemom Center of Giving
Cristal Cabral -- Engineering Intern, City of McMinnville - Engineering Department
Elliot Price -- Construction Project Management Intern, Cellar Ridge Construction
Owen Rappoport -- Engineering Intern, Phenix Solutions
Kaitlin McLearn -- Communications Intern, McMinnville Water & Light