MEDP Spark- Raising a Glass: A Toast to an Industry at the Heart of our Community
May 14, 2020
MEDP Spark, Volume 5, Issue 4 -- May, 2020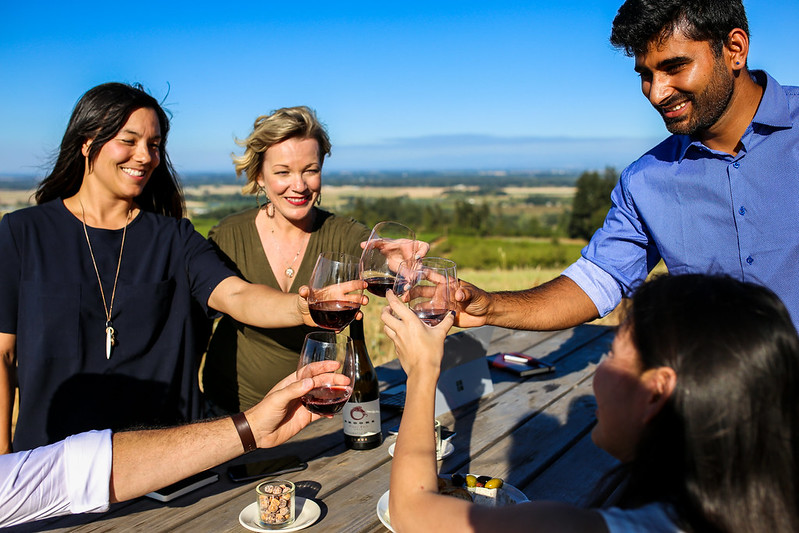 Wine is often one of the first visuals that comes to mind when thinking about McMinnville. Whether it is the picturesque vineyard views and rolling hills of wine country, the tree lined streets and friendly tasting rooms on Third Street, or the bustling of working wineries in the Granary District, wine is a consistent thread through the tapestry that makes up our community. From growers to graphic designers, lab technicians to hospitality you'd be hard pressed to find an area of the local community that isn't impacted by the wine industry.
Not only has the wine industry been a catalyst in shaping the culture of our downtown for over 50 years, it has also helped support and sustain economic growth in our community as well. Tourism and Hospitality are at the forefront with renowned events like the International Pinot Noir Celebration bringing guests from all over the world, but other businesses critical to the production, distribution and marketing of wine have been able to develop and thrive here as well. The result is a series of symbiotic relationships that foster economic growth and collaboration within our community.
As a celebration of Oregon Wine Month, MEDP wanted to give you a taste of the McMinnville companies that are an integral part of the local wine economy all the way from bud break to the bottle on your table.
Oregon Vineyard Supply got its start in McMinnville in the Mid-1980s as a one-stop shop for agricultural businesses. Eventually, their farming expertise led to the creation of their sister company Results Partners a vineyard development and management company. Currently Results Partners is the largest vineyard development company in the state of Oregon with over 3,000 acres farmed under their operation. They help clients every step of the way from determining a site's growing potential, all the way through harvest.
Their team of viticulturalists and vineyard managers look at the big picture and handle everything from vineyard design and excavation to irrigation and erosion control. They are able to tailor their services to client's specific needs, especially in the vineyard management side of the business where they handle everything from sustainable farming practices to drafting grape contracts with winemakers. Results Partners are able to work individually with their clients to determine the best approach to farming the land, how to manage disease and pests in the vineyard, vine nutrition and more. In 2011 they were able to expand their operation to manage and develop 350 acres in Southern Oregon, and they are looking to expand east into the Walla Walla wine region as well.
With over 100 full time employees, Results Partners has expertise ranging from viticulture and plant selection to machines and equipment. They also emphasize hands-on education, and each year they employ 6-10 summer interns, usually from surrounding viticulture programs to help develop and train a skilled agricultural workforce for the future.
Grape Clusters at Youngberg Hill Winery
Core Enology Analytical Services opened in McMinnville shortly before the 2015 harvest as a partnership between Corey Guinnee and the Davison Family. Guinnee moved to McMinnville in 2002 to help ETS Laboratories, a California based wine analysis lab, set up a satellite location in the recently expanded Davison Winery Supplies. As one of the hubs of the wine industry, it was the perfect way to start building relationships within the winemaking community. In 2015 ETS announced they were moving their satellite operation out of McMinnville, which created an opportunity and a need in the local winemaking community. "Our services are designed to allow winemakers to proactively monitor their product and ensure it stays on track from vineyard to bottle" said Guinnee. "Armed with this information winemakers can make adjustments or additions to the juice to promote healthy ferments and achieve stylistic goals."
The analytical process at Core Enology starts in the Fall with harvest, juice samples are sent in before the fermentation process starts, and a full panel is run, which includes an in-depth look into sugar concentration, nutrient levels and acid parameters. When asked what excited him most about his work Guinnee stated "I have a degree in chemistry but I don't think of myself as a chemist – more of a technician. So while I like being in the lab, working with the instruments, generating data, managing quality assurance systems, I'm actually more interested in people. Everyone involved in the production-side of winemaking has chosen to participate in a deceptively complex and dynamic production process. For me, being in a position to support those people is very rewarding."
"I think the thing I love most about McMinnville is that it's comprised of overlapping circles – winemaking being just one of those circles. There are many peripheral industries that feed into the wine industry. McMinnville attracts talented people who are not only helping advance the quality and notoriety of Oregon wines but also participating in building a vibrant community."
Guinnee also noted that having access to interns from local colleges during harvest is a huge benefit to running a business in McMinnville. At MEDP workforce development for the local community has always been a strategic focus, and we have been energized to see the evolution and development of the Wine Studies program at Linfield College.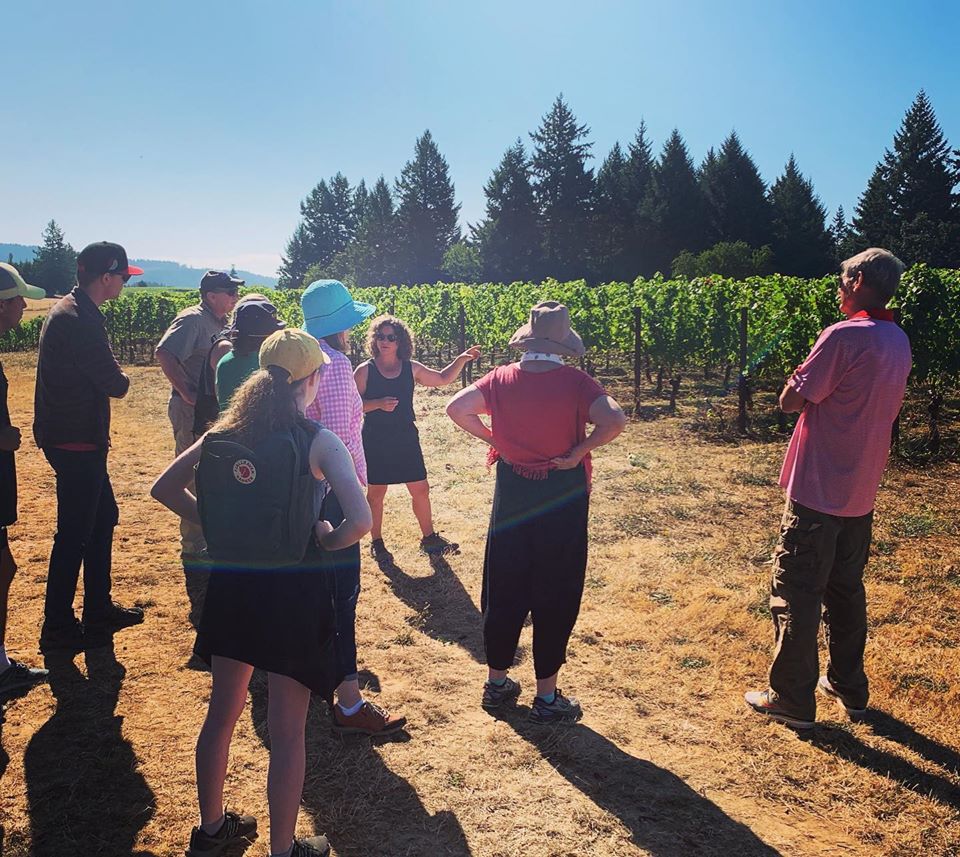 Linfield Students tour Soter Vineyard: Photo provided by Jeff Peterson
The Linfield campus has been known in the wine industry for quite some time as the location of the International Pinot Noir Celebration every summer. In 2011 the creation of the Oregon Wine History Archive began to deepen the relationship between Linfield faculty and the surrounding wine industry. Though Linfield alumni have been gravitating towards jobs in wine related fields for years, the college wanted to respond to the apparent need for a liberal arts approach to careers within the industry. What started as a summer immersion program led to the development of a Wine Studies major and minor housed within The Evenstad Center for Wine Education at Linfield College. This unique program takes an interdisciplinary approach at preparing students for various careers in the wine industry. Students completing the wine studies program are required to have classes in business, marketing, geography, public speaking, as well as viticulture, sustainability and environmental studies, which will allow graduates to find a niche within the industry.
"The Wine Studies major is not designed to compete with the Enology programs at other institutions" said Jeff Peterson, a Linfield professor of Sociology and one of the early champions of the program. " However, it was designed with direct feedback from leaders in the wine industry when asked what they needed our students to know before entering the workforce." This feedback has led to an innovative program designed to prepare students for success across all areas of the industry. With an emphasis on experiences that foster growth in the areas of hospitality, sales, marketing, communication, and business development, as well as science and viticulture, the wine studies program is designed to help educate and elevate the future leaders of Oregon Wine.
The Evenstad Center for Wine Education facilitates other learning opportunities for both Linfield students and the surrounding community including two wine related certificate programs, a wine lecture series, various workshops hosted by industry professionals, as well as a continued focus on the Oregon Wine History Archive.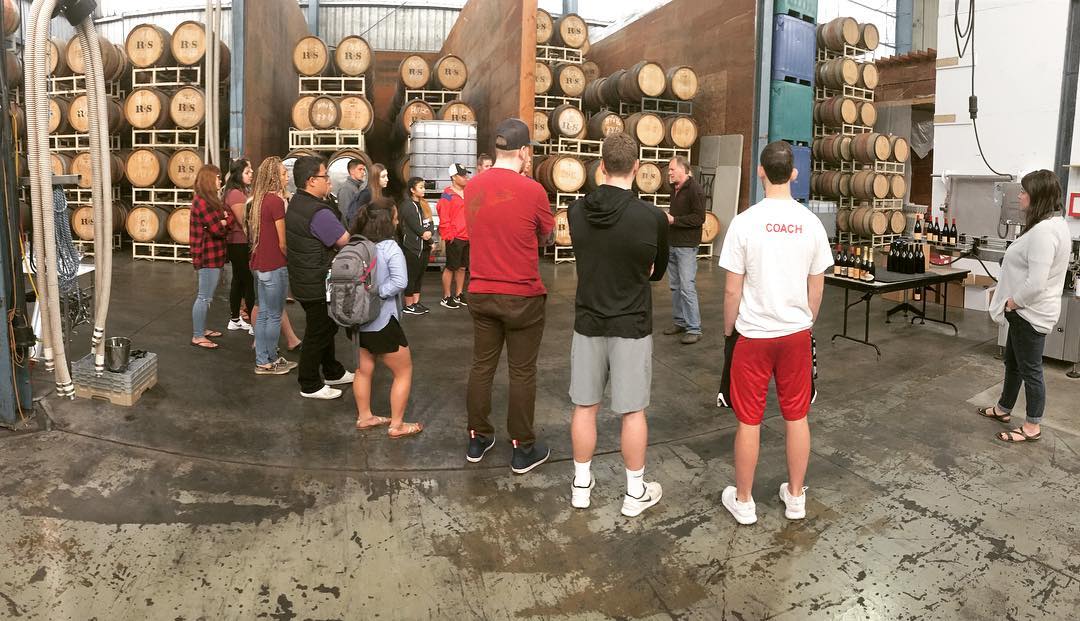 Wine Studies Class talking with Rob Stuart at R.Stuart & Co. Photo provided by Jeff Peterson
At MEDP you'll often hear us talking about the enviable lifestyle of life in Oregon Wine Country, about being plugged into a close-knit community, the friendly faces and the collaborative nature of the business community. Stop any local on the street and ask them about what makes McMinnville so special and you'll see a spark in their eyes as they start to tell you stories of thoughtful shopkeepers, incredible meals, quirky festivals, and a generosity of spirit. The local wine community is a big part of this equation.
Even amidst uncertainty the wine industry has continued to demonstrate resilience and collaboration over competition. Earlier this month 154 local wineries came together under "Willamette Valley Wines for the Frontlines" and donated over 1,400 cases of wine and non-alcoholic grape juice as a thank-you to front line hospital workers. You've heard the adage "It takes a village" and this project came together with help from winery owners, wine distributors, restaurants and shipping companies throughout the Willamette Valley.
You could say that wine is a way of life here in McMinnville, and even in the changing landscape we know that wine will continue to be at the heart of our community. The Next time you sit down with a glass of Oregon Pinot Noir, we hope it is paired with friends and delicious food. We also hope that you'll take a moment to raise a glass to the vineyard managers, harvest crews, lab technicians, bottling line, barrel makers, mechanics, distributors, chemists, viticulturalists, printers, graphic designers, and of course the wine-makers and the dreamers who helped create the bit of magic in your glass.
To learn more about Oregon Wine Month, winery specials and virtual tastings visit Willamette Valley Wineries Association and McMinnville Foothill Winegrowers
For a current list of our McMinnville based wineries check out Visit McMinnville
The wine industry in McMinnville is vast, but we wanted to be sure to highlight some of the companies that provide specific wine industry solutions.
Core Enology Analytical Services
Red Hills Distribution & Storage
Whether you are looking to relocate, expand, or start your business in McMinnville, MEDP is here to work with you and help connect you to our community. Reach us at 503.474.6814
---
ANNOUNCEMENTS:
(MEDP) is conducting a survey to identify local businesses in need of assistance, how the McMinnville economy has been affected by COVID-19, and what resources are needed to ensure business continuity.
Yamhill County has been approved to enter Phase 1 of re-opening on Friday, May 15th.

Please review the guidelines for the general public, employers and sector specific businesses.
Guidance for Gyms, Transportation and Summer Youth Activities will be updated soon. View the State and County Covid-19 sites for the most current information