Long-Term Projections Show Broad-Based Growth in the Mid-Valley Workforce Area
Nov 4, 2020
The following article written by Pat O'Conner originally appeared on November 3, 2020 on The State of Oregon Employment Department Website
The Mid-Valley Workforce Area (Linn, Marion, Polk, and Yamhill counties) will add 24,100 jobs between 2019 and 2029, according to new projections from the Oregon Employment Department. This represents an 8 percent increase in employment over 10 years. The growth stems from anticipated private-sector gains of 19,800 jobs (9%) and the addition of 3,100 jobs (6%) in government. This projected 8 percent growth rate is slower than the 18 percent growth seen over the past decade in the Mid-Valley. One reason for the strong 18 percent growth is that 2009 was in the depths of the Great Recession, and 2019 was prior to our current recession and marked the high point in the business cycle.

Beyond gains from economic growth, an additional 348,000 job openings will be created by 2029 as workers change occupations or leave for other reasons, such as retirement.

The 2019 to 2029 employment projections bring together several ongoing trends over the past few years: a growing health care sector, due in part to an aging population; continuing strong growth in the Mid-Valley's construction sector, which was hard hit during the Great Recession; and the need to replace workers due to retirements.

Industry Projections

There will be job growth in all of the broad private-sector industries with the exception of the information sector, which is expected to be flat over the next decade. All other sectors are expected to add jobs by 2029.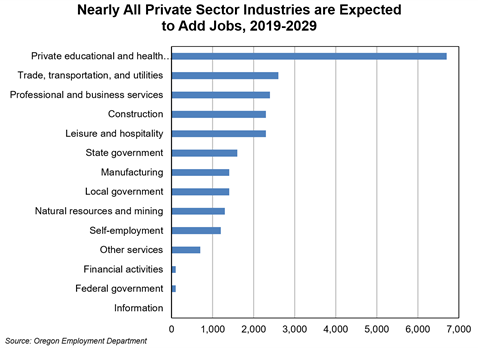 The region's private educational and health services sector is projected to add the most jobs (+6,700 jobs), followed by trade, transportation, and utilities (+2,600 jobs) and professional and business services, which will add 2,400 jobs.

The region's construction industry is projected to continue growing, recovering from massive Great Recession job losses. After more than a decade of below average growth in new housing in the Mid-Valley and Oregon, construction is projected to grow at one of the fastest rates of any major sector from 2019 to 2029, growing 13 percent or 2,300 jobs.

Private education and health services is expected to grow faster than construction, growing 16 percent and adding 6,700 jobs.

Despite the horrible economic conditions currently taking place in the Mid-Valley's leisure and hospitality sector due to COVID-19, the sector is projected to grow 10 percent from 2019 to 2029. It certainly isn't going to be a smooth or steady ride, but an economic rollercoaster for the leisure and hospitality sector.

Occupational Projections

Between 2019 and 2029, there will be job openings in almost all occupations.

Economic diversity in the Mid-Valley Workforce Area is demonstrated by the two different broad occupational categories projected to have the most job openings in the region: service occupations (90,400 openings), and administrative and support occupations (44,400 openings). Service occupations includes jobs as varied as emergency services, pest control workers, and fast food cooks. Administrative and support occupations include bookkeepers, customer service representatives, and receptionists.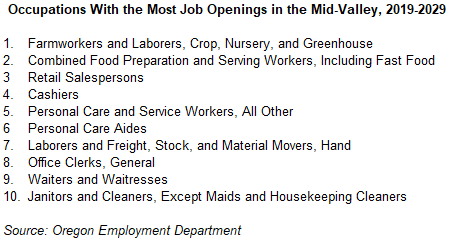 Health care occupations tend to be the ones growing fastest, driven in large part by the aging population. Physical therapist assistants, physician assistants, and nurse practitioners are among the fastest-growing occupations in the region.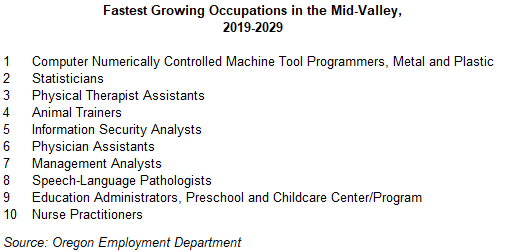 In terms of actual job counts, farmworkers, retail salespersons, food preparation and serving workers, cashiers, and personal care and service workers, all other are the five occupations with the most job openings anticipated by 2029. These are all large occupations, and they will all experience some openings due to economic growth, but many more due to the retirement or other departures of existing workers.

In addition to the nearly 24,200 new jobs from businesses opening or expanding, the region's employers will also need sufficiently trained workers for the more than 348,000 openings due to the need to replace those leaving occupations. Replacement openings will make up a majority of total job openings in all major occupational groups.

Nearly half (46%) of the projected job openings in the Mid-Valley will require some sort of education beyond high school in order for candidates to be competitive in the hiring process. A bachelor's degree or higher will be needed for 19 percent of openings at the competitive level.

Other Regional Projections

Central Oregon and the Portland tri-county area will record the fastest employment growth over the 10-year period, according to projections made by the Employment Department's regional economists. The Portland tri-county area consisting of Multnomah, Washington, and Clackamas counties anticipates 11 percent employment growth by 2029. The Central Oregon region expects employment gains of 12 percent. Statewide, Oregon's employment is projected to grow 9 percent from 2019 to 2029.