MEDP Receives Two Gold Awards from International Economic Development Council
Oct 5, 2021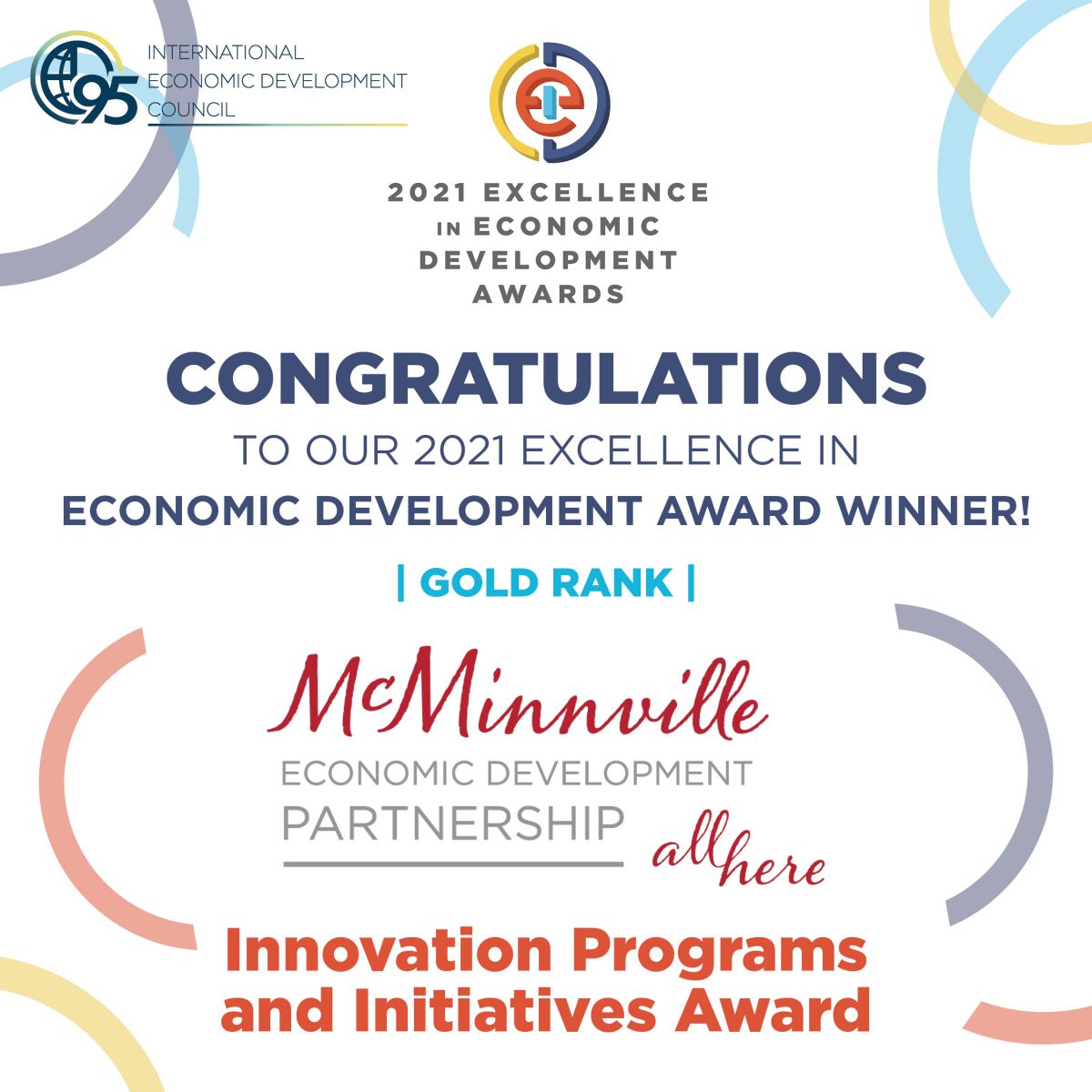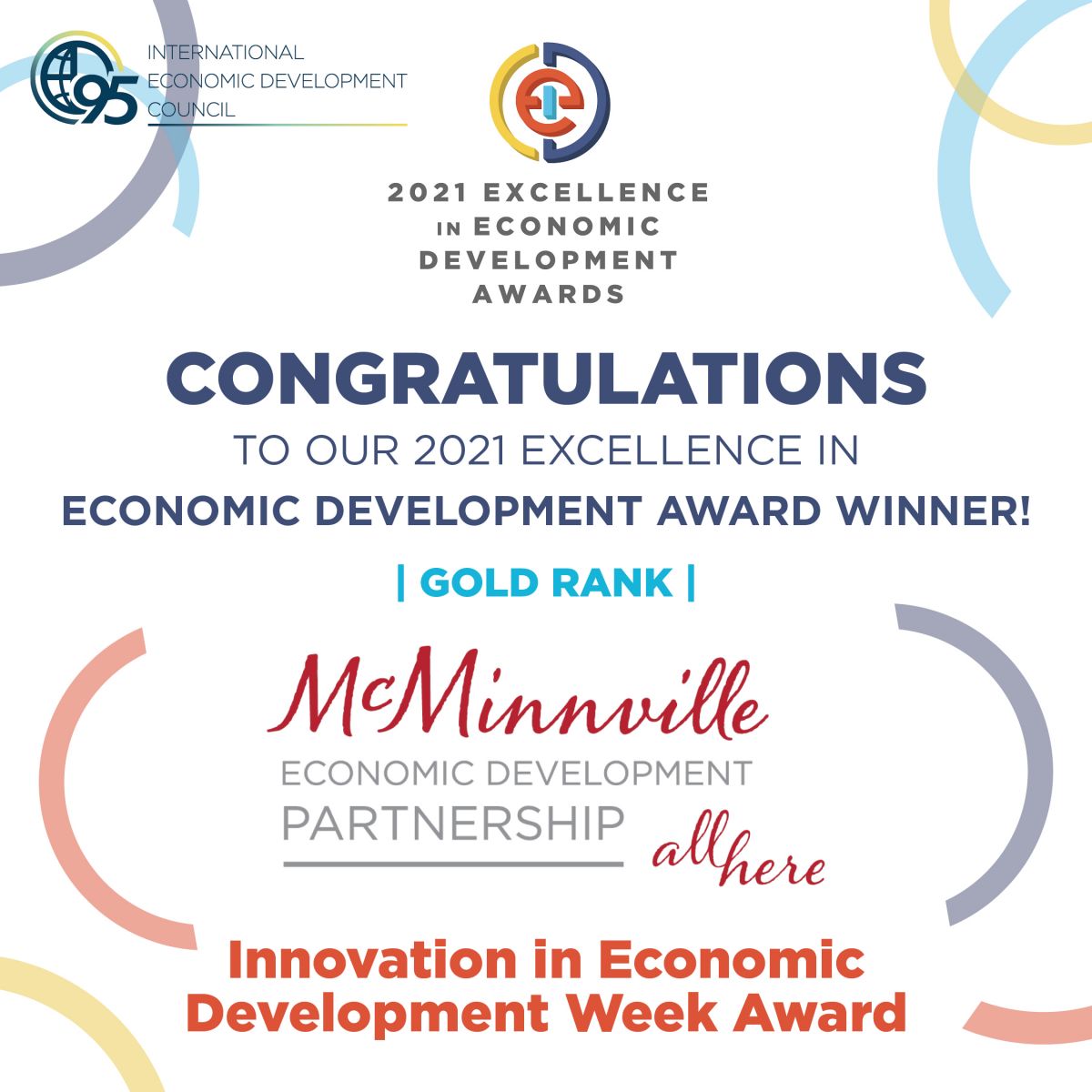 (MCMINNVILLE, OR) - On Tuesday, October 5, 2021, McMinnville Economic Development Partnership won a Gold Rank for its Oregon WORKS - Growing Our Own Workforce: Rural Expansion, a project in the category of Innovation Programs and Initiatives, as well as a Gold Rank for its MacDevWeek - Celebrating Economic Development in McMinnville, OR, a project in the category of Innovation in Economic Development Week from the International Economic Development Council (IEDC). The honors were presented today at an awards ceremony during the IEDC Annual Conference, which is currently underway in Nashville, TN.
"We are so thrilled and quite honored to receive two gold rankings for these projects," said Communications Coordinator Tayler Brisbin. "Workforce is a topic that is top of mind for all of our industries, and we are hopeful that more communities can benefit from programs that stem out of our initial efforts with Oregon WORKS." She went on to note "The MacDevWeek Campaign feels even more meaningful because we were able to work alongside so many of our economic vitality partners, all of whom truly desire and work for the success and vibrancy of our community. It was a passion project of mine, and I really enjoyed being able to hear what economic development means to various leaders throughout our community."
In 2013 the McMinnville Economic Development Partnership realized the community's need for a workforce solution to bring talented young workers into our community. To accomplish this task, MEDP convened a group of industry representatives who stated the desire for a community-wide internship program, and McMinnville WORKS was created. This program proved to be such a valuable resource for young people, local companies, and the community, that in 2017, the team at MEDP was given a grant through the Oregon Talent Commission to create a workshop to teach other communities in Oregon how to create similar programs. In 2017, MEDP taught four workshops to Oregon communities to establish new programs. In 2018, MEDP was approached by The Ford Family Foundation and the Oregon Community Foundation to hold four more workshops in rural Oregon communities. Since 2017, multiple communities in Oregon have started their own WORKS programs. Their goal is to support a robust network of industry-led, community-driven WORKS internship programs throughout the state of Oregon. This network will support each other with best practices, lessons learned, and regular opportunities to connect. Learn more about Oregon WORKS at oregonworks.net
During Economic Development Week 2021, MEDP wanted to bring awareness to and celebrate partner organizations that are helping grow the economic vitality of the community in McMinnville Oregon, and demonstrate how multifaceted economic development is. The overarching theme of this project was -- "We want everyone to have a seat at our table. Pull up a chair and help us in growing #economicvitality in McMinnville, Oregon." Efforts around #MacDevWeek were focused on partnerships with The City of McMinnville, The McMinnville Area Chamber of Commerce, Visit McMinnville, and the McMinnville Downtown Association. This group is colloquially known in the community as the "Stable Table". Though each of the organizations have a slightly different focus, they are all working towards the same goal: ensuring the success and resiliency of McMinnville as a whole. As they continue to navigate the challenges and changes presented by Covid-19, #EconDevWeek felt like an important time to acknowledge the strength, grit, and dedication these partners have demonstrated over the past 18 months. Learn more about MacDevWeek and see the promotional video at mcminnvillebusiness.com/medp-economic-development-week-2021
"The winners of IEDC's Excellence in Economic Development awards represent the best of economic development and exemplify the leadership that our profession strives for every day," said 2021 IEDC Board Chair and Invest Buffalo Niagara, President, and CEO Tom Kucharski. "We're honored to recognize the more than 100 communities whose marketing submissions, projects, and partnerships have improved regional quality of life."
We're incredibly honored to recognize the outstanding organizations that received this year's Excellence Awards. This year, more than ever, has presented opportunities to innovate, impact, and progress the cities, neighborhoods, and communities around us. Each of this year's recipients represents the best of the economic development profession and exemplifies the ingenuity for fellow economic developers to aspire to in the years to come.
IEDC's Excellence in Economic Development Awards recognize the world's best economic development programs and partnerships, marketing materials, and the year's most influential leaders. 25 award categories honor organizations and individuals for their efforts in creating positive change in urban, suburban, and rural communities. Awards are judged by a diverse panel of economic and community developers, following a nomination process held earlier this year. IEDC received over 500 submissions from 4 countries.
***
About MEDP: The Partnership includes the City of McMinnville, McMinnville Water & Light, McMinnville Industrial Promotions, the McMinnville Area Chamber of Commerce, and area businesses. To learn more about the McMinnville Economic Development Partnership, visit www.McMinnvilleBusiness.com or find us at facebook.com/McMinnvilleBusiness.
About IEDC: A non-profit, non-partisan membership organization serving economic developers. With more than 5,000 members, IEDC is the largest organization of its kind. Economic developers promote economic well-being and quality of life for their communities by creating, retaining, and expanding jobs that facilitate growth, enhance wealth and provide a stable tax base. Learn more at iedconline.org