MEDP Spark: Are you Digitally Fluent, Empathetic and Adaptable?
Nov 19, 2020
What is your workstyle? How do you Handle Conflict? Can you tell us about a time you had to deal with a difficult situation? These are all questions you've probably encountered at an interview. Hopefully we haven't made you too nervous starting off with the tough questions, but while we are on the subject of Employability, What skills are you looking for in new hires? What does it actually take to be employable?
We recently caught up with Erik Grimstad, The Environmental Services Supervisor at the City of McMinnville Wastewater Services: We connected about his experience working with a McMinnville WORKS intern this past year. "In the Wastewater Services Lab we employed interns each summer for the last 15 years. It has been a great way to show young people one way their interest in science can apply outside of school. Three of our previous interns are now working professionally in wastewater treatment around the state of Oregon."
"By training a new intern our staff gains a better understanding of our systems and can spot ways to improve them. Every intern has a unique view and set of experiences and they bring interesting questions and ideas every year. Our lab continually gets a little more efficient in large part because we teach our systems to someone new each year."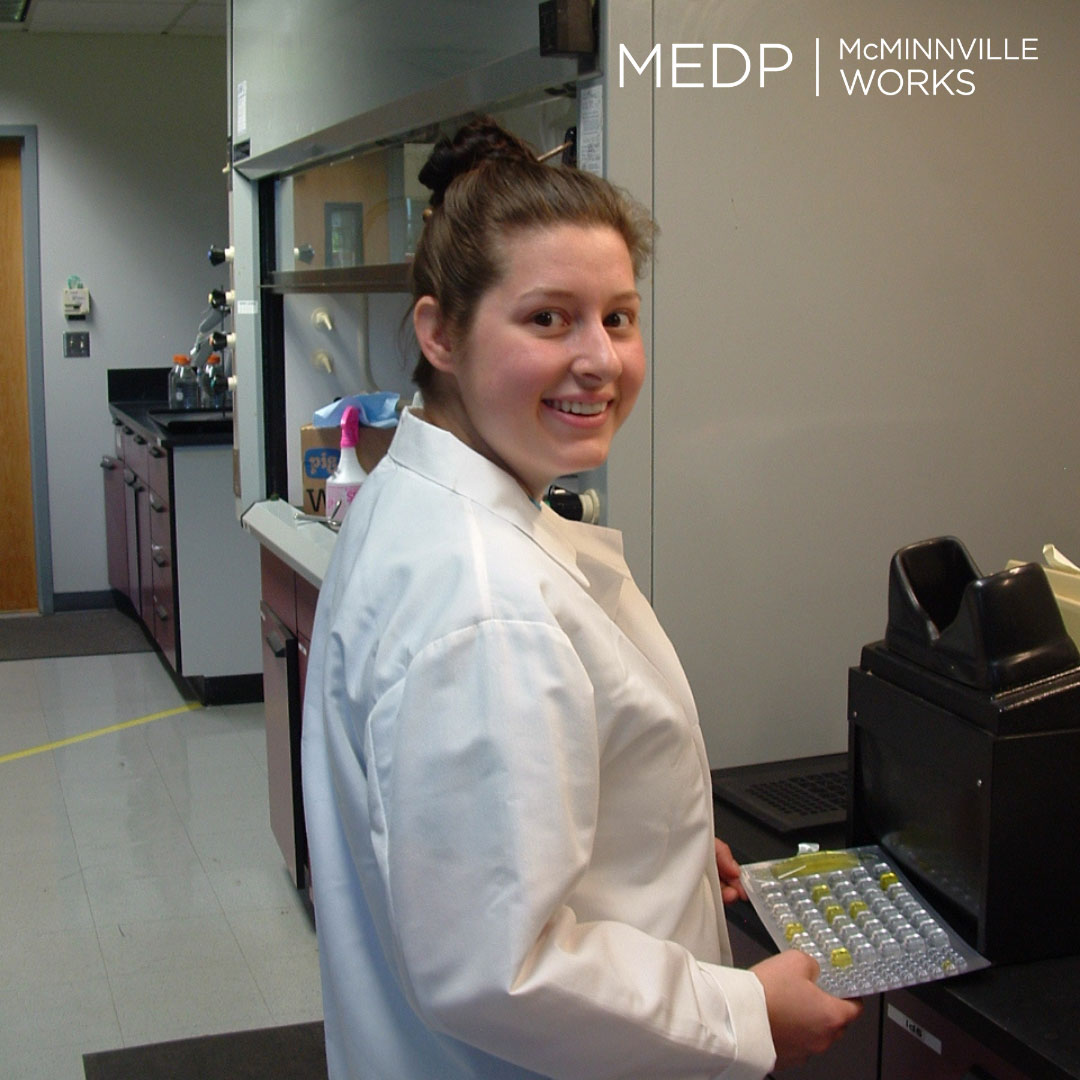 McMinnville WORKS Intern Kassandra Lassagne reading the results of an E. Coli test at the City of McMinnville's Wastewater Laboratory
As MEDP further develops our professional development curriculum for our Workforce Programs, we are focusing on some of the essential skills relevant in the 21st century.* Erik was able to walk us through how each of these top ten skills are relevant in his chosen career path at Wastewater Services.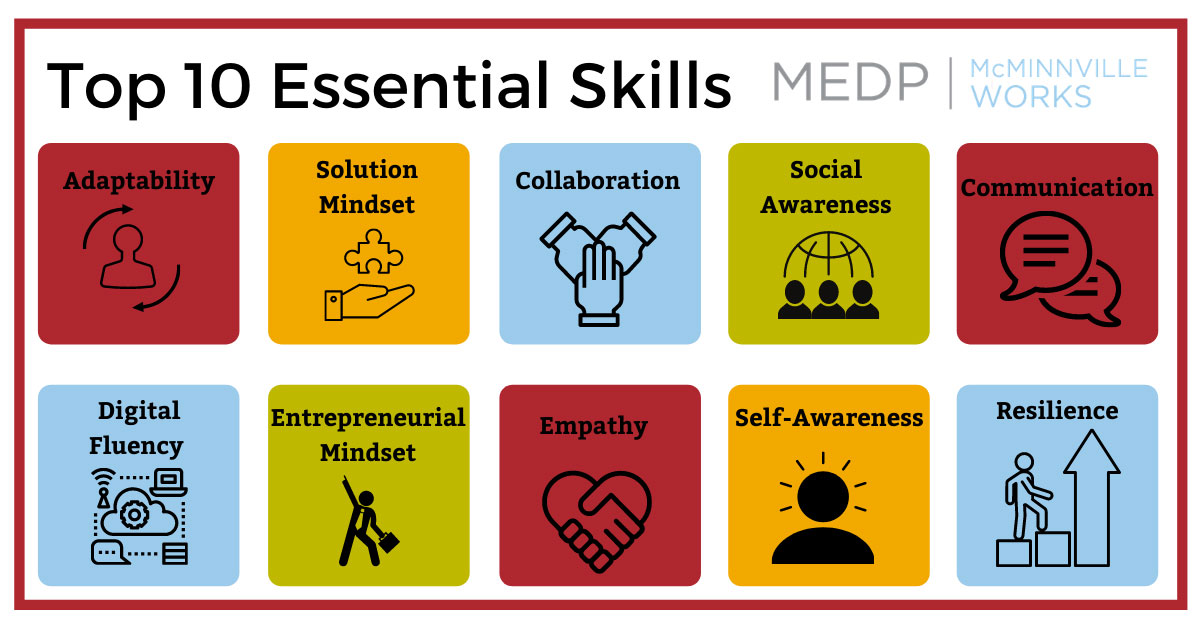 Adaptability – Big one this year with COVID changing our day to day operations. Normally we always have to be ready to pivot with changing regulations and testing methods. Our intern this year was amazingly adaptable! We had to change our workflow and general lab practices often to make sure we were keeping everyone safe. Our intern was able to adapt quickly this year. They were even able to help us adapt quickly to new systems with Zoom and other technologies needed for more remote work.
Solution Mindset –This is huge in a laboratory setting. If a standard or blank is failing to meet requirements, we need to be able to think critically and not get bogged down in the failure. An issue with a test method is an opportunity to fine tune the procedure so that results are even more accurate and consistent. Every year when we train a new intern we find new opportunities to dial in our systems. By teaching our day to day systems to someone new, it allows for a different perspective and continued improvement.
Collaboration – When working in wastewater it is vital to collaborate with others at the treatment plant. In order to make sure water is being treated properly it is important for the different groups to be in close communication and work together when changing the process.
Social Awareness – When communicating about water treatment it is important to understand the different perspectives in the community, some see the issue in terms of cost while others are only concerned with how the water interacts with the environment. Most people don't know where their water goes after they are done with it!
Communication – Clearly communicating is important because the data generated in the lab informs how the treatment plant is operated. If we miscommunicate our results it could lead to adjustments in the treatment process that could change how well the water is treated. Being clear about the results, and the uncertainty within the data, is vital to maintaining the treatment process.
Digital Fluency – We use a lot of basic computer programs. There is nothing really fancy, but basic literacy can get you pretty far quickly. Our intern this year redid some of our graphs using a scrolling function in excel that improved our system a lot! It was fun for us to learn something new from them!
Entrepreneurial Mindset – Taking on challenges before they are required is part of an entrepreneurial mindset. By thinking long term we can work to protect assets while not having play catch up when new regulations are implemented. Thinking long term and acting in ways to continually improve our process allows us to save money for our rate payers long term and produce cleaner water.
Empathy – We use empathy when communicating within our team and then also with customers. It is important understand how others approach the topic and work to frame the conversation that will resonate with them.
Self-awareness –Be aware of your strengths and weaknesses. If you know these, you can work in your strengths while also shoring up areas where you need improvement. Also, if you are paying attention, you can spot strengths in those you work with and ask them to help you in areas where you need improvement.
Resilience – It is important to remember that you are not expected to know how to do everything. You are expected to be able to take a question and find answers from various sources, including your peers. By admitting you don't know something, but staying committed to finding the answer, you can work with a beginner's mindset and stay resilient.
Side note: Erik has a degree in Biology from Linfield College (now University), and when he isn't at his day job making sure our rivers stay clean, you will most likely find him growing spectacular vegetables. He and his partner Beth are the founders of Even Pull Farm. Though we didn't ask directly, we're pretty sure these 10 skills were also relevant to the farming season this year.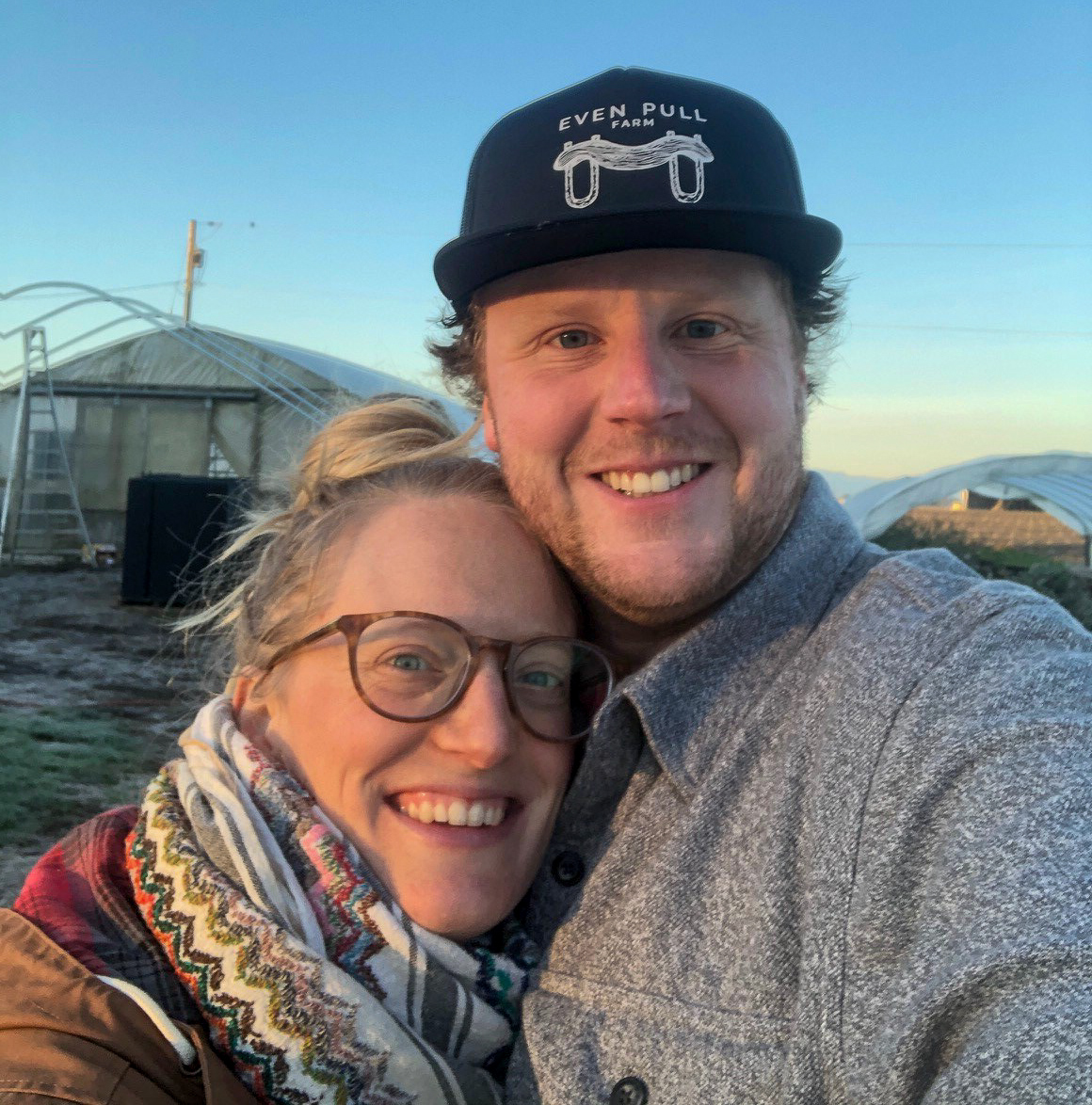 *Top Ten Essential Skills, references:
The Willamette Promise: Integrating the New World of Work's "Professional Competencies" established through Mozilla Foundation's national comparison of "Top 10" 21st Century Skills and College/Career Ready Competencies
---
MEDP is recruiting Host Sites for the 2021 Summer Internship Programs: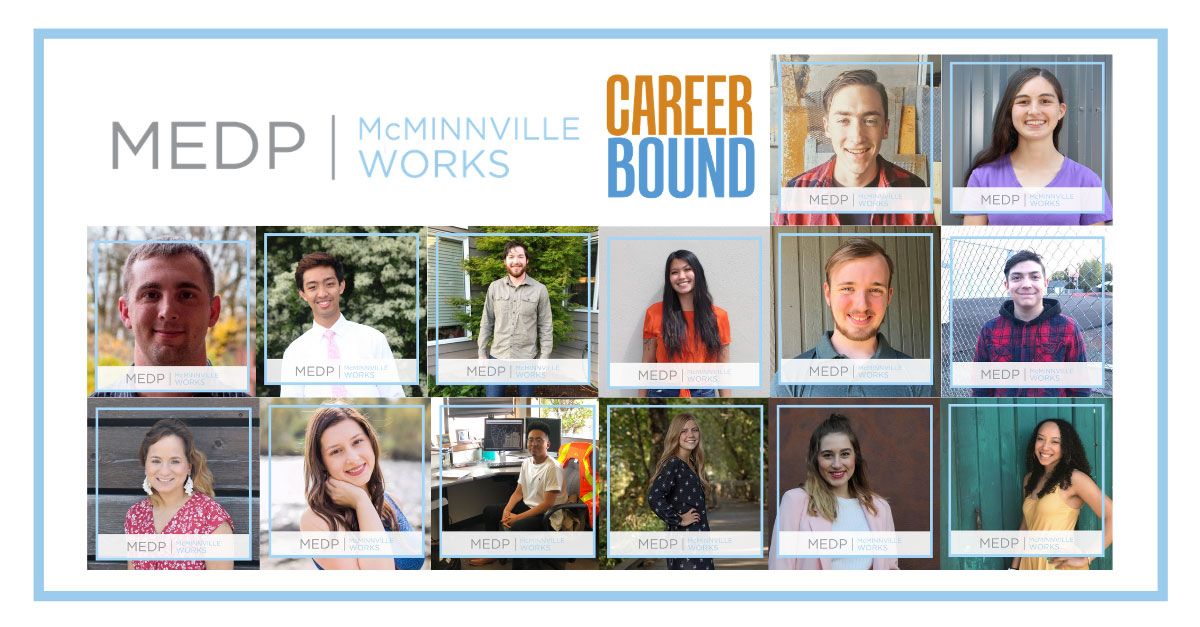 We currently facilitate two programs: McMinnville WORKS which focuses on placing college students with project based internships and Career Bound, which markets to graduating high school seniors exploring careers in the skilled trades. We highly encourage all McMinnville area businesses to apply to be a part of this award-winning nine week program.
McMinnville WORKS and Career Bound Internship Programs
(There is no obligation to hire an intern and we only ask if you have a position or project in mind. Fill out the form so we have a better idea of interest and we can begin our marketing campaign for the coming year. )
Additional questions about our Workforce Development Programming can be directed to Heather@McMinnvilleBusiness.com