MEDP Spark - Super Charge Your Business With Interns
Nov 14, 2019
MEDP Spark, Volume 4, Issue 11 -- November 2019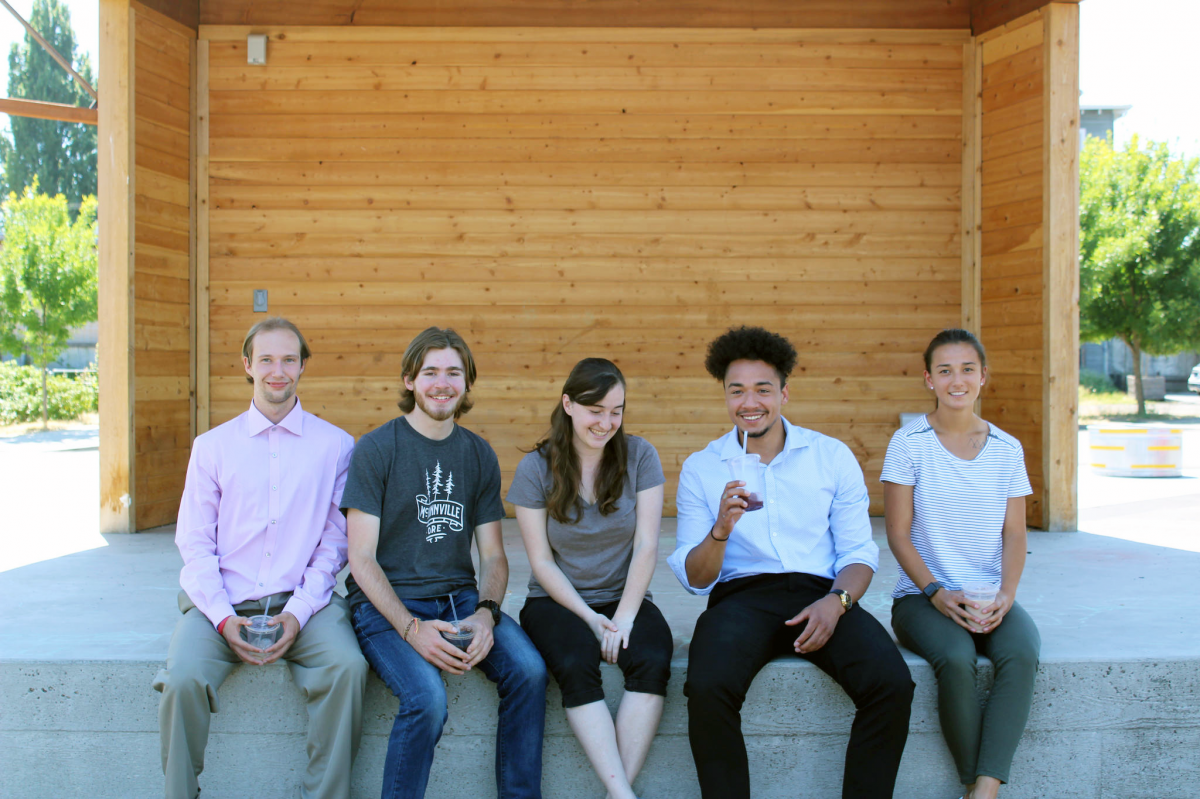 Fall may be in the air but MEDP is busy kicking off our 2020 Summer Internship Programs: McMinnville WORKS (collegiate) and newly launched CAREER BOUND (recent high school graduate), and are looking for area companies willing to host young professionals interested in being a part of our local workforce community. This is an opportunity to get your projects done while exposing our emerging workforce to career opportunities in various fields of work.
Kathy Tate, CEO OnlineNW and host of multiple MEDP interns has found increased value and benefit to her company by participating as a host site: "Since engaging with MEDP and the McMinnville WORKS program and the pilot year of the CAREER BOUND program, we have had the opportunity to meet and work with some of the brightest, committed, competent young people coming up into our workforce. There was a time when we looked at internships as giving back to the community by providing students a chance to earn some money and get real world business experience. Today, we feel we are the ones that really reap the most benefits. We've found:
Increased productivity by helping overburdened staff with side projects
Enhanced perspectives that break up the status quo and bring new insights
Learning the latest techniques and technology from students who are using cutting-edge strategies and technology in their field of study and their personal lives
Enhancing our social media outreach with interns who are informed about current events, popular culture and trends
Fostering leadership and mentoring skills in current employees, staged for future management positions
Improvement in overall work environment by lightning workloads and creating more time for creative or advanced projects
Our interns have brought enthusiasm, motivation and positive energy. We now see an abundance of new and upcoming talent in our local schools and colleges. At OnlineNW we put a premium on work ethic, teamwork skills, and proactive learning."

Want to learn more about how interns can super charge your business? Read a past issue of MEDP's Spark regarding the value of an intern and visit our website for more information about the programs:
Deadline to be included in MEDP's host site marketing campaign to regional and national colleges (WORKS) and county-wide high schools (CAREER BOUND) is December 13, 2019.
MEDP Spark, Volume 3, Issue 11 -- November 2018
The McMinnville WORKS Internship Program was designed to connect the local industry to an emerging workforce. It was also designed to connect interns to the McMinnville community and give them a valuable work experience. Though, yes, MEDP has done the work to connect over 80 interns to local companies and has run the program since 2013, the truth is, it's never been about us, and to be honest, it's never been all about the interns either. The McMinnville WORKS Internship Program is about our businesses who offer fantastic opportunities to young professionals. They are the true reason that people stay in this community. We made the program, but our businesses create careers.
Not only do the businesses who are in the WORKS program have a tremendous impact on the interns they host, in turn, over the years we have seen these interns change organizations. From the onboarding process, to what a company looks for in a new employee, we have been able to see businesses grow, change, and expand thanks to this small but mighty program. Recently, we caught up with three businesses who have had interns in the past and are big supporters of the McMinnville WORKS Internship Program. We were able to learn why they host interns, what they look for in an employee, and how something as simple as a community internship program has changed the way their organization functions.
Altogether, last summer 10 Host Sites hosted 15 WORKS Interns who worked on a variety of projects from electrical engineering to sales to conservation and more. Companies included Cascade Steel, the City of McMinnville, HBF International, the McMinnville Economic Development Partnership, McMinnville Water & Light, OnlineNW, Sea Reach Ltd., Solid Form Fabrication, Willamette Valley Medical Center, and the Yamhill County Clerk. Recently, we had the opportunity to catch up with three Host Sites to learn what hosting an intern has meant for them.
McMinnville Water & Light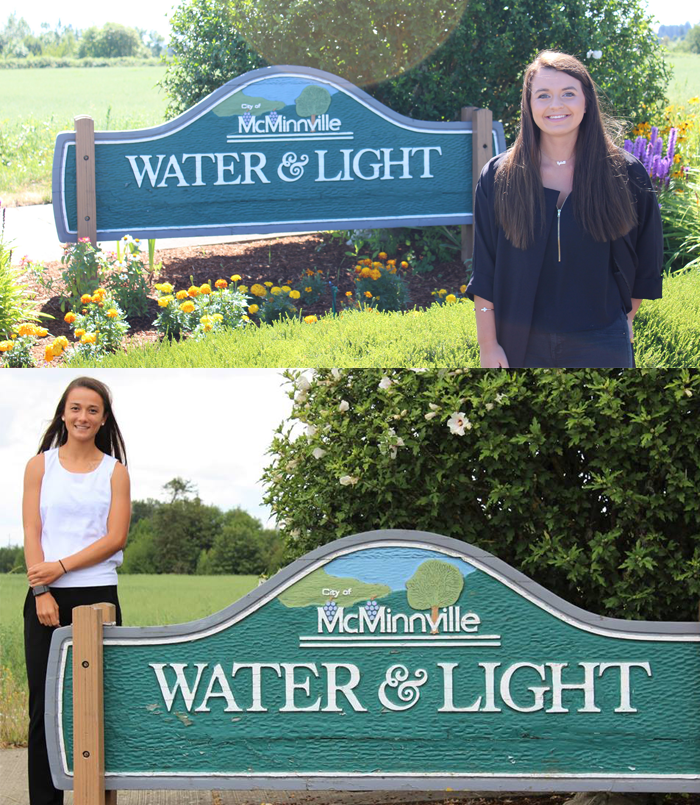 McMinnville Water & Light past interns Sylvette Benetti (2017) and Aimee Bruner (2018).
McMinnville Water & Light (MW&L) takes a proactive approach to everything. When you're planning the entire city's electrical and water supply, you have to. Strategies can not just be responsive to current issues, they need to forecast current issues and mitigate them 50+ years in advance. It shouldn't be surprising then that their General Manager, John Dietz, has taken a proactive approach to workforce development. According to John, the utility company is looking at a large surge of retirements in the coming years and having an intern is "a great way to learn about a potential future employee and for a young professional to learn about us. The more workforce systems we engage in, the more opportunities we have to find qualified employees."
MW&L has hosted two interns over the past two summers through the McMinnville WORKS Internship Program. They have also hosted two interns through Chemeketa WORKS, have multiple apprentices working through their systems, and have hired interns through local colleges for paths like water distribution and water treatment - careers that can take five additional years to complete all levels of certifications. That being said, it's not only technical qualifications that matter when MW&L looks for a new employee, "They have to be a good fit. They have to fit into our culture and have a good work ethic." To be successful, a young professional should work to "Learn as much as you can. Really learn, understand, and communicate. Be willing to come in and ask, 'hey, can I come and see what you do.' It's so important."
According to John, having interns at the company has also changed how they look at all potential employees, "It has changed our thought process on how we hire people. We're looking at hiring as a long-term relationship with an employee. It's not just about the next project, it's about all the projects that have come before. We want to keep the next generation of workers thinking about how our organization has progressed over time and having interns has taught us about the knowledge transfer." He points to the example of their WORKS Intern from the past summer, Aimee Bruner, a Conservation Intern who is currently studying Renewable Energy Engineering at the Oregon Institute of Technology, "we tailored what we were teaching her to what her goals were. We took a little bit of energy conservation and a little bit of electrical engineering and created very specific projects she could complete on her own. We've actually offered her a job for next summer, so we're already thinking ahead."
John anticipates continuing to utilize the internship program while looking into creating more workforce recruitment strategies for the future.
OnlineNW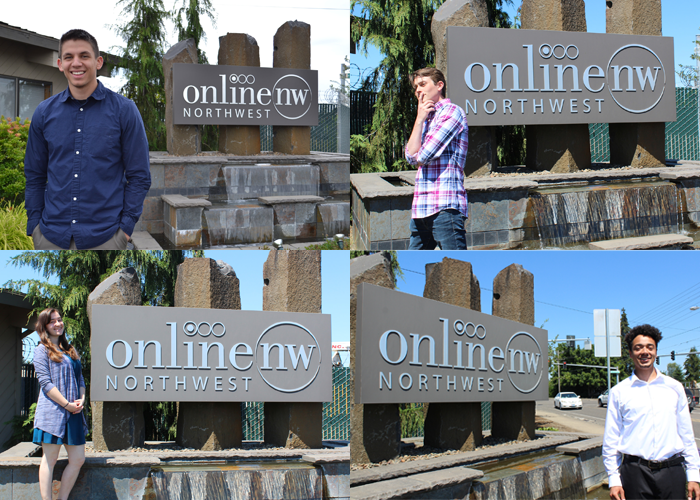 OnlineNW past interns Ryan Lockwood (2016), Michael Cooney (2017), Rachel Williams (2018), and Jonathan Fyre (2018)
Kathy Tate, CEO at OnlineNW, started using the McMinnville WORKS Internship Program around the same time the company was diving deep into fiber internet, fiber construction, and a project with the City of Dayton and the Dayton School District. The company was growing rapidly and finding qualified workers was getting more challenging, "We didn't see that challenge getting any easier. Working with the Dayton School District we began to realize that students were our talent pool. The students here, living here and going to school here, were the workforce we were going to be depending on so linking into the MEDP program was the perfect resource for us."
Kathy was right, since hiring their first intern OnlineNW has consistently grown and taken on more work, growing their workforce needs. Over the past three years, Kathy has hosted four different interns through the McMinnville WORKS Internship Program who have worked on some amazing projects. Though, what might be even more amazing is how having interns has changed OnlineNW. Kathy stated, "I think we have come to realize that what makes a good intern is the same as what makes a good employee. We have really taken the position over time with workforce talent and availability that we really need to grow our own talent. The internship has really helped us with this because we totally relooked at how we hire people. I would say at this point in time, 80% of how we hire and the decisions that we use to hire people are based on our developed and established three competencies and their personality. It's more about a person's core qualities than their skills."
Not only has the internship changed what the company looks for when it hires new employees, but it has also changed how the company approaches new employee onboarding. "Bringing interns into our office was the launching pad for us completely rethinking how we bring people into the company and how we train people once they get here. We've developed a system that allows a new employee to essentially onboard themselves. 80% of everything that happens is the new hire's responsibility and about 20% is the mentor or supervisor that is helping them go through the process." The new program has allowed the company to onboard employees faster with more efficiency. It also creates documentation an employee can go back to if they ever have questions or need a refresher.
Though both of these changes have been valuable to the company, Kathy points to one of her favorite components of hosting an intern, "Students come in and are so enthusiastic about learning that they have a fresh perspective. They don't have any preconceived notions of how an office should look or how people should interact. The excitement they come in with helps the enthusiasm here. I think sometimes we do our jobs every day and we don't think they're necessarily interesting or very fun, so it's great to see someone come in who is just excited to learn."
Kathy plans to continue hiring interns in the future and encourages young professionals to "go and work at a place that is interesting to you. Utilize the skills you have developed and learned and see what those skills look like in a real-world environment."
Sea Reach Ltd.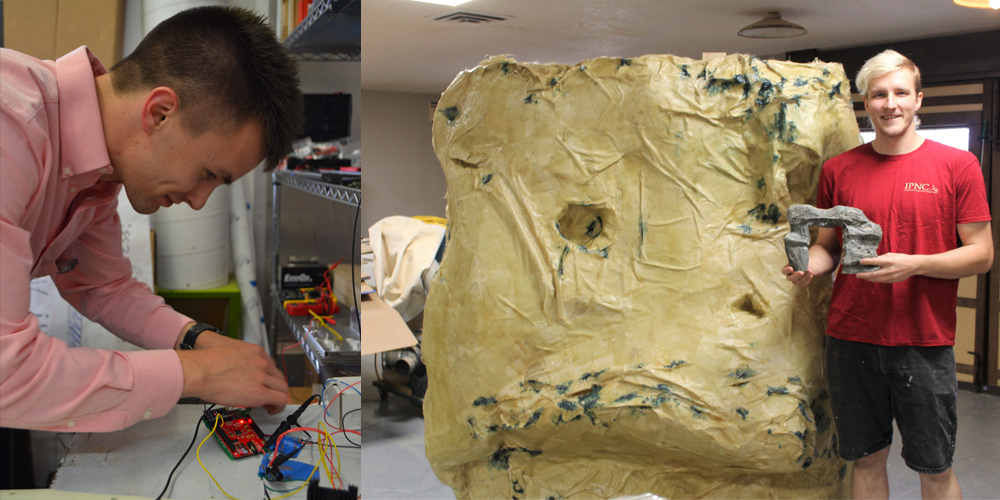 Past Sea Reach interns Alex Ogle (2016) and Daniel Bradley (2018)
Susan Jurasz, owner at Sea Reach Ltd. has taken a different approach to interns in the past. When she first started utilizing the McMinnville WORKS Internship Program four years ago she wanted MEDP to send over interesting people and the project could be developed around them. Now, she is still looking for interesting people, but with a larger understanding of projects that could get completed with different skill sets. A sign and exhibit planning, designing, and fabricating company, projects at Sea Reach have ranged from creating a structure that enables blind individuals to enjoy national parks, to building a large cave for a bat exhibit, to doing creative work that will live on wayfinding signs for years to come. Internships at Sea Reach often look very different year over year, but one thing that doesn't is the amount of trust Susan puts into the young professionals she hires.
According to Susan, "I started Sea Reach when I was 18 years old. I incorporated Sea Reach when I was 25. So when someone comes in between the ages of 18 and 25, I think, I started my business at that time, you better be able to do the projects I'm throwing at you. And people rise to that occasion. I think when you're allowed the latitude to define your scope and grow into it, for the most part, people won't disappoint you." A big proponent of the WORKS program, Susan can point to individual projects interns have completed while also pointing to examples of connections made through young professionals, "There's this network that MEDP is starting to build and it's almost hard to know the impact further out."
Located in Sheridan, Oregon, Sea Reach also demonstrates something many young professionals find difficult to grasp, "I think there's a big misconception when you're young that you have to go to a city to be paid well and to get the big job. All of that is here. You don't need to go to a big city to get that. It's already here."
The McMinnville WORKS Internship Program is just one piece of a larger workforce system being developed in Yamhill County. With low unemployment rates and large job growth, it's clear that finding talented workers will continue to require interesting programs that are industry driven. We're excited to continue listening.
Update as of November 2019 --
MEDP has two concurrent workforce programs: McMinnville WORKS (collegiate, founded in 2013) and CAREER BOUND (recent high school graduate, pilot year 2019). Learn more about these programs here. Positions are marketed beginning in January, processed applicants are presented to Host Sites in March for review and hiring by the end of April. MEDP's workforce programs including professional development and training run mid-June through mid-August and are coordinated by our own Intern.
Interested in Hosting? Sign up today!
McMinnville WORKS Host Site Form